Top Stories
State being developed as envisioned by statehood activists: CM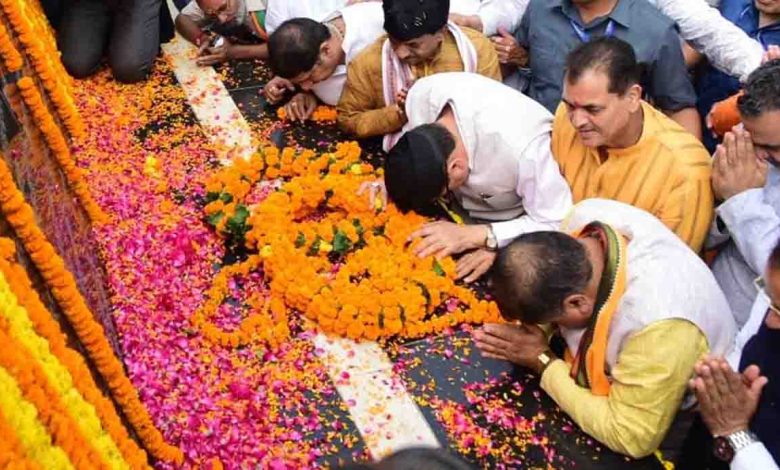 Monday, 03 October 2022 | PNS | DEHRADUN
Chief minister Pushkar Singh Dhami paid tribute to statehood martyrs at the Rampur Tiraha memorial in Muzaffarnagar, Uttar Pradesh on Sunday. He announced that a statue will be erected in memory of the late Mahaveer Sharma who had donated land for this martyrs memorial. The CM also announced the reconstruction of the public meeting centres constructed in 2016 in Rampur, Sinauna, Meghpur and Bagonwali due to the cooperation of the villagers and public sentiments. He made these announcements on the anniversary of the Rampur Tiraha incident.
Speaking on the occasion, Dhami said that the Rampur Tiraha incident is among the most painful memories of the statehood movement. The wound inflicted upon people of Uttarakhand agitating non-violently for their honour has not yet healed as the people still feel the hurt. The CM averred that the State government is working to expedite development work in every sphere to fulfill the dreams of statehood activists. The government will ensure the development of Uttarakhand based on the way shown by and principles set by the martyred statehood activists, he said.
Dhami said, "Prime Minister Narendra Modi had said that the third decade of this century belongs to Uttarakhand. The Centre and State governments are working hard and consistently together in order to achieve this. So far, 39 registered pilgrims have undertaken the Char Dham Yatra which is going on in a safe and convenient manner. For the first time, our government made budgetary provision for the Kanwad Yatra. The reconstruction of Kedarnath after the 21013 disaster under the guidance of PM Modi has added grandeur to this shrine while work on the Badrinath master plan is also underway. Completion of work on the Delhi-Dehradun expressway will reduce travelling time between these two cities to about two hours."
Paying tributes to the statehood activists and martyrs, Union minister of State for Defence, Ajay Bhatt recalled various aspects of the statehood movement. He said that the development of Uttarakhand is taking place in line with the dreams of the statehood activists and martyrs under the leadership of CM Dhami.
Union minister of State Sanjeev Kumar Baliyan, BJP Uttarakhand president Mahendra Bhatt, cabinet minister Prem Chand Agrawal and others were also present on the occasion.