Top Stories
Governor visits Kedarnath, reviews development & other works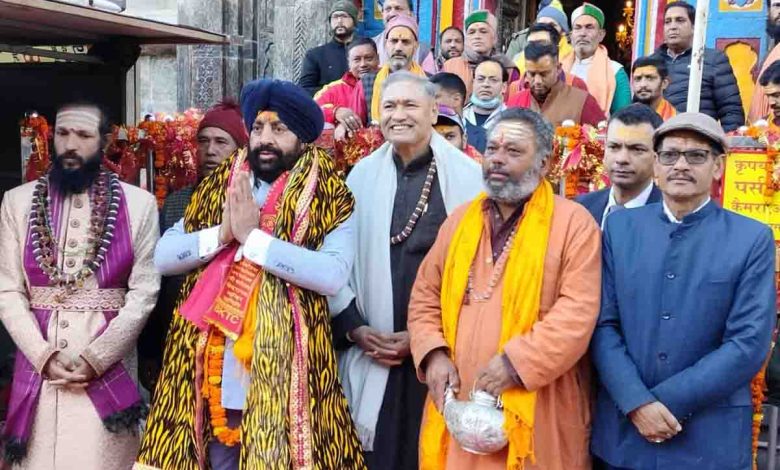 Tuesday, 04 October 2022 | PNS | DEHRADUN
The governor lieutenant general (retd) Gurmit Singh visited the Kedarnath temple on Monday morning and offered prayers there. During his visit the governor met the Teerth Purohits and officials and sought information about the reconstruction works.
Later in the day the governor held a review meeting with the officers of revenue, police, forest and health departments at the auditorium of the camp office of the 11 Maratha Light Infantry. The governor sought information about the preparations and measures taken by the departments during the Kedarnath Yatra. He appreciated the labourers working in the Kedarnath reconstruction works despite adverse conditions. The district magistrate of Rudraprayag, Mayur Dixit informed the governor about the preparations and the reconstruction activities in Kedarnath.
Expressing satisfaction the governor said that the use of modern techniques should be made to make Yatra easy and safe. He directed that a large LED screen should be set up in the temple premises so that the pilgrims get information about the 12 Jyotirlingas while standing in the queue. The governor said that to control 15 lakh pilgrims at an altitude of 12,000 feet is not an easy task and appreciated the employees doing the onerous task. Appreciating the workers of the health department and the Swami Vivekanand health centre for providing health services to the pilgrims, the governor said that efforts to increase the telemedicine and Heli ambulance facilities should be made to provide instant treatment to the pilgrims. He directed the chief medical officer of Rudraprayag to coordinate with the specialist doctors of All India Institute of Medical Sciences (AIIMS) Rishikesh for providing the above mentioned facilities to the pilgrims.
The governor ordered the chief development officer of Rudraprayag to prepare the videos and take photographs of ten successful people of the area who with their sheer hard work brought about a positive change in their financial condition. These success stories should be publicised to motivate others, he said.
The meeting was also attended by superintendent of police Ayush Agarwal, divisional forest officer of Rudraprayag Abhimanyu, CDO Naresh Kumar and CMO Dr BK Sukhla.