Breaking News
CM lays foundation stone of 9 housing projects for poor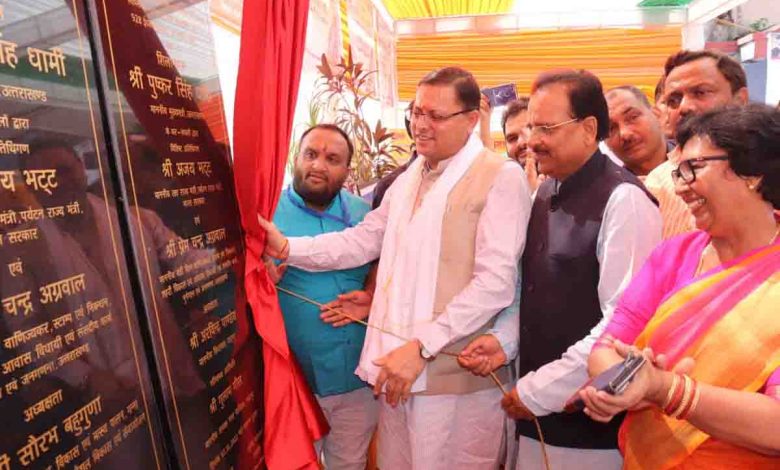 Tuesday, 04 October 2022 | PNS | DEHRADUN
Chief minister Pushkar Singh Dhami laid the foundation stone of nine projects in Udham Singh Nagar and Nainital districts under the Pradhan Mantri Awas Yojana -Urban on Monday. The CM laid the foundation of these projects worth Rs 547 crore in a programme organised at the Uday Raj Hindu Inter College in Kashipur, Udham Singh Nagar district. A total of 7,776 houses would be built under these projects.
Speaking on the occasion the CM said that our cities are fast becoming the hub of economic activities and considering the fact we are preparing our cities for the future. He said that the State government has taken a commitment to develop five new cities in the next five years. The CM said that Prime Minister Narendra Modi believes that the third decade of the present century belongs to Uttarakhand and we should work hard to fulfill his dream. On a stern note the CM said that all the nine housing projects should get completed on time and no compromise on quality would be accepted. The nine projects are in Rudrapur, Gadarpur, Sitarganj, Kashipur and Jaspur of Udham Singh Nagar and Ramnagar of Nainital district.
CM said that the dream of a roof over every head is getting fulfilled under the leadership of PM Modi. He said that the campaign of PM Modi to provide houses for the poor reflects his vision for empowering the poor standing last on the ladder of society. The CM said that more than three crore houses have been built under the Pradhan Mantri Awas Yojana.
The CM said that one should view the comparative analysis of the works done by the present government and those done by previous governments. He said that the facilities which the poor and deprived sections of the country should have got years ago are being given now by PM Modi.
He added that Modi is not only a Shram Yogi (hard worker) but also a great visionary who is visualising and making the future of the country.
The Union minister of State for Defence, Ajay Bhatt and Urban Development minister Prem Chand Agarwal also spoke in the ceremony. The chairperson of Uttarakhand Forest Development Corporation Kailash Gehtodi, MLAs Trilok Singh Cheema, Shiv Arora, Diwan Singh Bisht, district magistrate of Udham Singh Nagar Yugal Kishore Pant and others were present on the occasion.