Crime
Police arrest four more accused of stealing motorcycles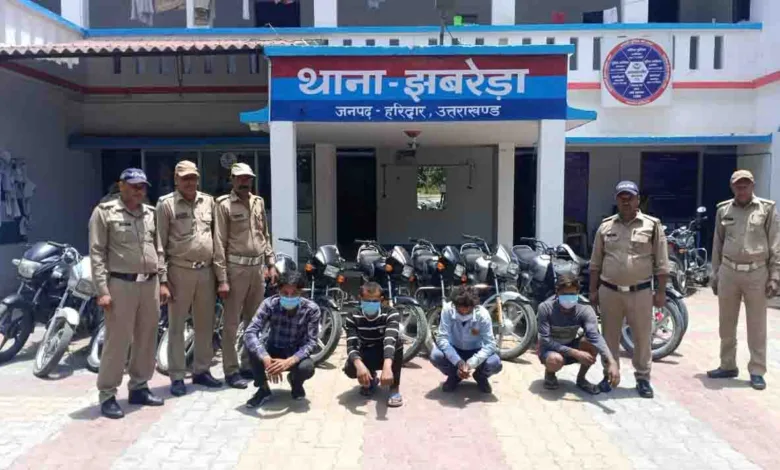 Saturday, 03 June 2023 | PNS | DEHRADUN
Amid the increasing cases of two-wheeler theft in several areas of the Haridwar district, the police arrested four more gang members on Friday allegedly involved in such thefts. The police have also recovered 12 motorcycles from these accused, said the senior superintendent of police, Ajai Singh. He said that he has formed teams to investigate the gangs involved in the theft of motorcycles across the district and to recover the stolen motorcycles. He said that acting on a tip-off received on Thursday, the police started checking vehicles near Iqbalpur Kunja road where they questioned four suspicious men on two motorcycles.
On questioning strictly about the motorcycles, they allegedly confessed to riding the stolen motorcycles, said Singh. He said that the accused have been identified as Vishal Singh, Vicky, Rajan and Nitish who told the police team about the location of 10 more stolen motorcycles. Out of these 12 motorcycles, three were stolen from the Roorkee area, two were stolen from the Jhabreda area and one each from Manglaur and Nagal areas.
The police are gathering information about the five remaining motorcycles, added SSP. He said that the accused revealed during the investigation that they are drug addicts and they steal vehicles and sell them at cheaper rates to get quick money to buy illegal drugs. A case has been registered against the arrested accused under relevant acts at Jhabreda police station. Singh said that the police had also arrested two such gang members on Wednesday including a minor and recovered eight motorcycles. The police will get more facts related to these gangs during the investigation and more such accused are expected to be arrested soon, added Singh.