Top Stories
Modi's dream of grand Kedarpuri to be realised soon- Dhami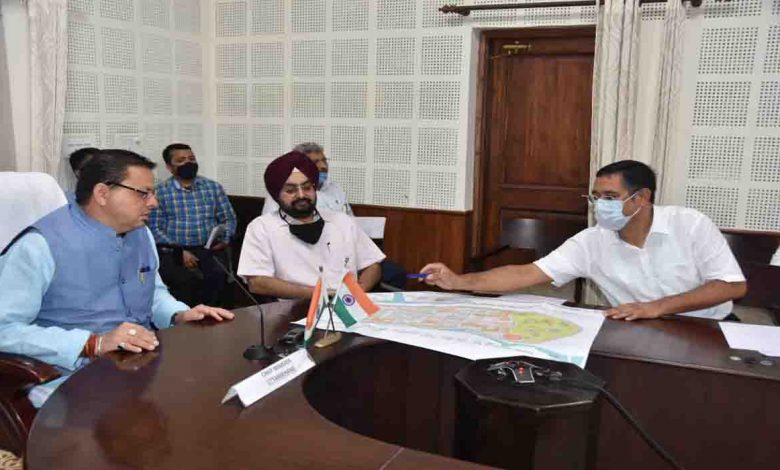 Thursday, 05 August 2021 | PNS | Dehradun
The chief minister Pushkar Singh Dhami has said that the resolve of Prime Minister Narendra Modi to re-develop Kedarnath Dham would be fulfilled soon. He reviewed the reconstruction works in Kedarnath with the help of a drone on Wednesday. He said that the Kedarnath reconstruction project is the dream project of PM Modi and directed the officials to expedite work on it. He said that under the guidance of the PM a grand look is being given to Kedarnath as per the master plan. The CM said that the works on the shrine of Shankaracharya and construction of bridge on Mandakini River should be completed in the first phase. The CM said that the works of the second phase which have started should be completed on time. He said that coming two to three months are good for construction works in Kedaranth so they should be expedited.
The officers informed the CM that the works in first phase are almost complete and in the second phase projects worth Rs 116 Crore have been approved. In the second phase reconstruction of Sangam Ghat, a rain shelter at Astha Path, water ATM, command and control room and hospital building are being constructed.
It is pertinent to mention here that CM Dhami was planning to visit Kedarnath Dham for the last many days but inclement weather prevented his visit. Like Dhami did on Wednesday PM Modi himself had reviewed the Kedarnath reconstruction works on many occasions through Drone.
The chief secretary S S Sandhu, additional secretary tourism Yugal Kishore Pant accompanied the CM during the review while Rudraprayag District Magistrate (DM) Manuj Goyal attended the programme virtually.