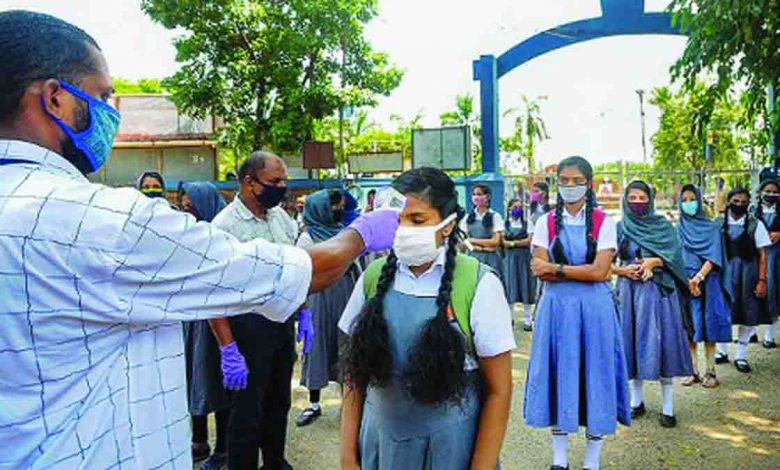 A fortnight since senior students rejoined classes, the attendance is still thin as the parents are apprehensive
It has been nearly a fortnight since schools in Delhi re-opened doors to students in classes X and XII after being closed for almost 10 months. Yet, the fear of the pandemic is such that schools, which re-opened on January 18, are seeing thin attendance. On an average, attendance in schools has hovered around 50-60 per cent. In a country like India, where academic performance is everything and a child's worth is commensurate to his/her grades, this reluctance of parents to send their children to school says a lot about how deep the fear psychosis is. When the pandemic hit India in March 2020 and schools and colleges closed down, the whole academic community, students and parents were in shock as this was not something that anyone had witnessed in the country's history. As the crisis deepened, all stakeholders were hard put to answer questions on the future of the students and whether it would be a lost year. The lack of adequate healthcare facilities weighed so heavily on the parents' mind that it resulted in the last few Board exams getting nixed as the parents obviously preferred a lost year over a lost child.
However, now with the caseloads and casualties coming down exponentially, particularly in Delhi, and with the launch of the vaccination drive one would expect that parents would be more comfortable in sending their children back to school. However, the thin attendance tells a different story. Hence, it is time that schools and the Governments ramp up their information campaigns so that schools, too, can keep up with the unlocking of the economy under the new COVID guidelines. If the administration of the schools want the seniors to come back on a regular basis so that it can lead to more classes for the middle and junior school students opening up, they should consider counselling so that both the parents and students can be mentally at ease about the transition from online classes to brick-and-mortar classrooms. This needs to be done not just to save another academic year from getting lost but also to enable the younger children in underprivileged homes to go to school so that they don't have to face "lockdown hunger" anymore. Because, make no mistake about it, a large portion of India's children needs to go back to school, and sooner rather than later, so that they can eat — thanks largely to the mid-day meal scheme — as well as continue their disrupted education. We owe it to them.
Monday, 01 February 2021 | Pioneer