Breaking News
CM directs officials to expedite development works in border district Pithoragarh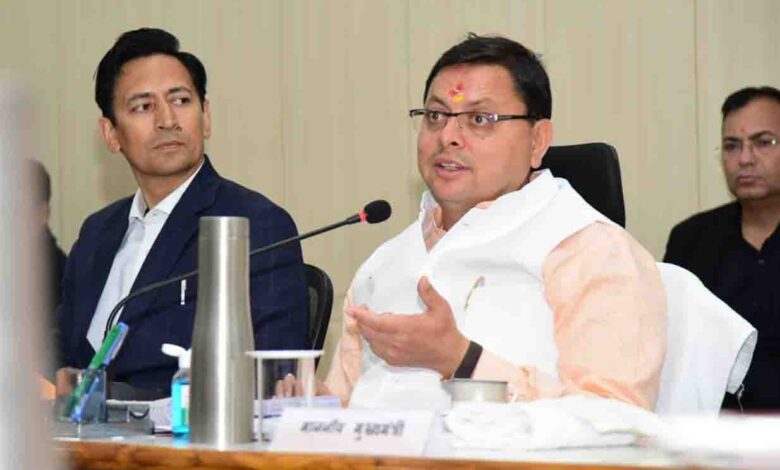 Monday, 14 November 2022 | PNS | DEHRADUN
Dhami expresses concern at construction works started years ago but still incomplete
Chief minister Pushkar Singh Dhami has directed officials to improve the execution of development works in the border district of Pithoragarh. He also expressed concern referring to works which were started years ago still not being completed. The chief minister said this while chairing a meeting with district level officials in Pithoragarh on Sunday to review the development works being undertaken in the district.
Checking the development works, Dhami told officials that all the construction works underway in the district should be expedited. He especially directed the officials of PMGSY and NH to expedite the road construction and road widening works in the district. The officials concerned were also directed to speed up construction of the sports college in Lelu. Similarly, the officials concerned were also directed to ensure that the construction work of the Pithoragarh district jail is also completed soon. The officials of the executing agency were also directed to hand over the Pandit Nain Singh Surveyor Mountaineering Training Centre at Munsyari to the department concerned, prepare a proposal for the remaining works and submit the same to the administration. Dhami directed officials of all the executing agencies concerned to start the hand over process regarding the construction works which had been completed.
Addressing the officials, the chief minister stressed on the need for improvement in the progress of development works in the district. Considering this, all the officials should comprehend their responsibility and ensure that the development works are completed soon so that the people of the district can enjoy the benefits of these works without delay.He said that construction works which were started years ago are still incomplete, which is a cause for concern. The planned utilisation of funds, whether from the Centre or the State should be ensured so that the intended benefit can be derived by the public on time. Dhami said that Prime Minister Narendra Modi is serious regarding the development of border districts. Considering this, all the officials should focus their efforts on developing Pithoragarh as a model district.
The local MP Ajay Tamta, district Panchayat president Deepika Bohra, Didihat MLA Bishan Singh Chufal, Kumaon commissioner Deepak Rawat and district magistrate Reena Joshi among others were also present in the meeting.