Sports
Ben Stokes stands up in English cricket's biggest moments: Buttler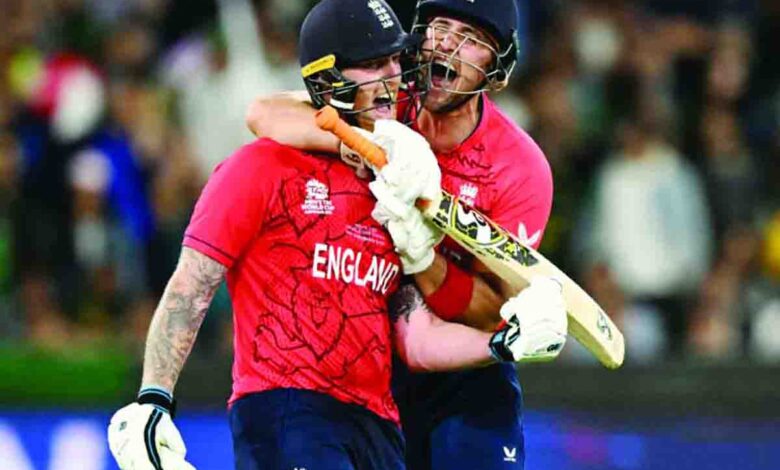 Monday, 14 November 2022 | PTI | Melbourne
Ben Stokes can certainly go on to become England's greatest ever cricketer as the star all-rounder "stands up in the biggest moments" like he did on Sunday, said skipper Jos Buttler said after the team's T20 World Cup triumph.
Stokes had anchored England's chase against New Zealand in the 2019 ODI World Cup final with an unbeaten 84 not out.
On Sunday, Stokes struggled against Pakistani pacers initially but took his team past the line with a responsible 52 not out to help his team win its second T20 World Cup title.
So is he on his way to become England's greatest ever cricketer?
"Yeah, he can be in the conversation for sure," said Buttler after the famous win over Pakistan at the MCG.
"He (Stokes) always stands up in the biggest moments. He is a man who can take a lot of pressure on his shoulders and perform, and yeah, with him in the middle you know you have got a good chance.
"Yeah, just so proud of him, pleased for him that he's stood up and done it again," Buttler said with a sense of gratitude.
In the 2016 T20 World Cup final, Stokes was on his hunches after Carlos "Remember The Name" Brathwaite hit him for four successive sixes to fire the West Indies to their second title. As 'Sweet Caroline' was being played at the MCG after England's win, Buttler couldn't be more happier for Stokes, who has gone through a lot in past few years.
He lost his father in December 2020 and eight months later, he took an indefinite break from the game to "prioritise his mental well being", which also finds a mention in his tell all documentary.
"Yeah, it's an amazing story really, isn't it. I think shame he did his documentary a year early. He could have added that in. Yeah, he has been on an amazing journey."