Sports
England win T20 World cup, break Pakistani hearts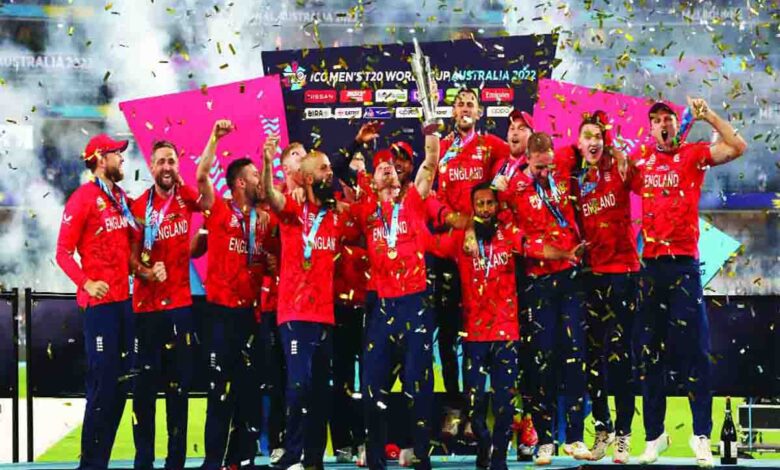 Monday, 14 November 2022 | PTI | Melbourne
England's golden generation of white ball cricketers overcame a spirited Pakistan to lift the T20 World Cup trophy with a comfortable five-wicket victory here on Sunday. The Pakistani fans were longing for an encore of 1992 when Imran Khan's team created history at this very venue but batting let Babar Azam's side down as 137 for 8 was never going to be good enough.
England skipper Jos Buttler, who was made white-ball captain earlier this year, was all praise for his team which has set the benchmark in limited-over cricket. "To win the T20 World Cup now, immensely proud of everyone here. It has been a long journey and a few changes, but we are reaping the rewards of how we have played in the last few years."
"Early on in the tournament, the shock loss to Ireland did hurt but the players moved on quickly from that little blip to focus on the road ahead," said star England all-rounder Ben Stokes after scoring a match-winning 52 in the final. Stokes showed his big match prowess once again with a gritty 50 under extreme pressure to help England to their second T20 World Cup title. He looked back on the team's memorable campaign.
"With that (defeat to Ireland) being so early in the competition we obviously had to address it, say what had to be said, and then let it go," Stokes, who was also instrumental in England's 2019 World Cup triumph, said after the five-wicket win. 
"In tournaments like these you can't carry baggage with you, that was a little blip on the way, credit to Ireland for turning up and beating us, but the best teams learn from their mistakes and not let it affect them," said Stokes.
The seasoned Stokes anchored the chase despite occasional scratchiness and had a calm Moeen Ali as an ideal foil.
They chased down the target in 19 overs to regain the title they had won in 2010 in the West Indies.
Experienced Haris Rauf and young Nasim Shah bowled their hearts out to prevent it from becoming a one-sided game but Stokes soaked the pressure along with Ali as the duo put on a 48-run stand for the fifth wicket to nail the win that avenged England's loss to the same rivals in the '92 World Cup final.