Breaking News
BJP wins Bageshwar by-election by comfortable margin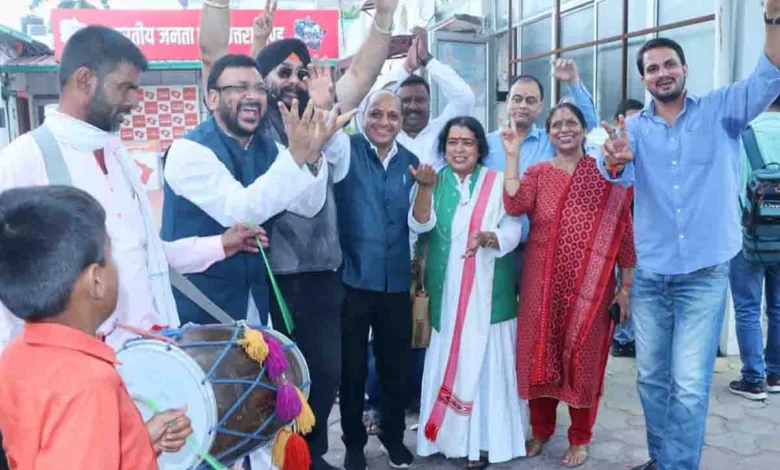 Dass defeats Kumar by 2,405 votes, NOTA favoured more than other candidates
Saturday, 09 SEPTEMBER 2023 | PNS | BAGESHWAR/DEHRADUN
The Bharatiya Janata Party candidate Parvati Dass won the Bageshwar Assembly by-election by a comfortable margin of 2,405 votes defeating her nearest rival and Congress candidate Basant Kumar. In what may be seen as a message for candidates of other parties including the Uttarakhand Kranti Dal, Samajwadi Party and Uttarakhand Parivartan Party, more than 1,000 voters opted for None Of The Above (NOTA) than votes polled in favour of any of the candidates from these three parties.Dass received 33,247 votes compared to 30,842 votes received by Kumar.
Counting of the votes polled in the Bageshwar Assembly by-election began on Friday morning. The Congress candidate appeared to have a lead in the initial stages but after a few rounds of counting the trends changed and later on it became clear that the BJP candidate was likely to win.
Parvati Dass is the widow of the late MLA and cabinet minister Chandan Ram Dass and the BJP focused on convincing the voters that electing her will ensure that works initiated by her late husband will be carried forward. The emotional connect also appears to have played a role as women voters exercised their franchise more than men in the by-election. According to official data, there are a total of 1,18,264 voters in the constituency out of which 65,570 voters cast their votes on September 5. Out of the voters who exercised their franchise, women were more enthusiastic with 63.88 per cent women voters polling compared to 47.27 per cent male voters.