Breaking News
Ancient temples & pilgrimages to be developed on lines of Badrinath & Kedarnath:Dhami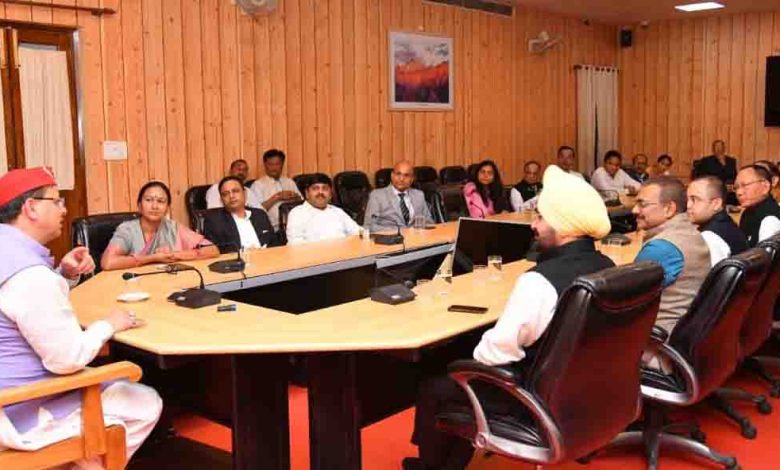 Monday, 24 October 2022 | PNS | DEHRADUN
Motivated by the stress laid by Prime Minister Narendra Modi on cultural revival, taking pride in heritage and focus on religious identity during his recent visit to Badrinath and Kedarnath, chief minister Pushkar Singh Dhami said that the State government will work on developing temples and pilgrimage centres in the State on the lines of Badrinath and Kedarnath. He said this while interacting with officials who had come to the CM residence to convey their Deepawali greetings to Dhami on Sunday.
The CM said that he had a detailed discussed with PM Modi regarding the planned development of pilgrimage and religious tourism in the State. He said that importance guidance had been received from the PM in this regard. Dhami said, "PM Modi said that Uttarakhand is a centre of faith for crores of people across the world. He said that the State government should prepare a master plan for developing other ancient temples and pilgrimage centres on the lines of Badrinatha and Kedarnath, adding that the Central Government is eager tol provide all possible assistance. The PM also suggested that those arriving here for the Char Dham Yatra should be provided information about the importance of other ancient temples along with information about other tourism destinations. This will definitely facilitate the development of tourism in the State while providing livelihood to the locals and increasing their income." During the meeting on Sunday, it was also stated that many of those undertaking the Char Dham Yatra have to wait for three to four days many times for helicopter service. A system should be made wherein the visitors are able to visit nearby tourist destinations in the meantime. This will facilitate the good use of the visitors's time on the one hand while facilitating income for the locals on the other hand. Dhami said that he had also informed PM Modi about the Manaskhand Mandir Mala mission for the temples in the Kumaon region.
Reiterating that the PM has special affection for Uttarakhand, he said that the State should be developed as per his vision and guidance. Work plans should be prepared as per the directions of the PM. Stating that he had also received important suggestions regarding the Manaskhand Mandir Mala mission, the CM said that it was decided that work on preparing the master plan for temples included in this mission will also be started soon. Dhami told officials to facilitate educational tourism to LBSNAA and IIT along with other prominent educational institutions for toppers of the State to motivate the students. Chief secretary SS Sandhu, additional chief secretaries Radha Raturi, Anand Bardhan and other officials were also present on the occasion.