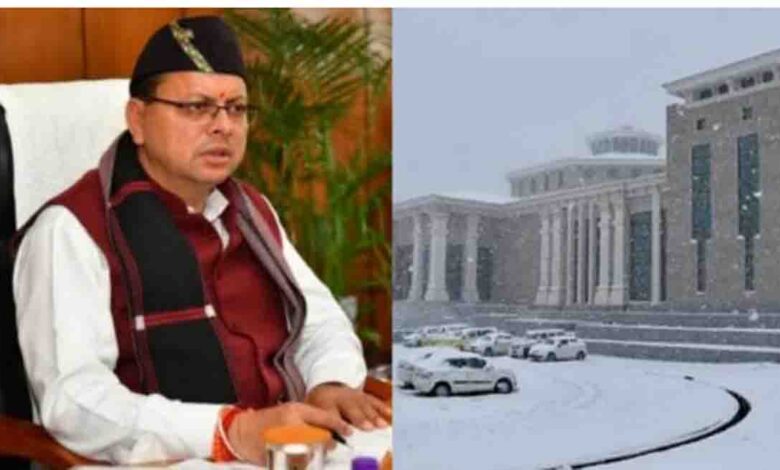 Friday, 17 March 2023 | PNS | BHARADISAIN
The budget session of the Vidhan  Sabha was adjourned sine die by the speaker Ritu Khanduri on Thursday night on the fourth day of the session. In the major business of the day the assembly passed the budget of Rs 77,407.08 crore for the financial year 2023-24. In his address, chief minister Pushkar Singh Dhami said that the State government is committed to fulfill the idea of Prime Minister Narendra Modi that the third decade of this century would belong to Uttarakhand. He said that the State government has brought a strict anti-copying law in the State to prevent incidences of copying and examination related malpractices.
Amid thumping of desks the CM said that in never in the last 22 years the mafia associated in examination related malpractices have been sent to jail. In a major announcement the CM announced that the cases registered on the unemployed in the agitation would be withdrawn. The CM said that the State would become the first state that would have a strict anti conservation law. He said that efforts are being made to promote home stays in the State and appealed to the ministers and MLAs to stay in the home-stays.
Terming the budget development oriented and the one which reflects the vision of the State government, the CM said that a provision of Rs 1,000 crore has been made in the budget for construction of a new Joshimath. He said that an effective plan for relief and rehabilitation works in Joshimath would be made and union government has assured that it would provide every possible support to the State government. He said that the State has reported a 36 per cent SGST collections. The CM said that the budget reflects the commitment of the State government to construct a new Uttarakhand. Earlier in the day the Leader of Opposition (LoP) Yashpal Arya said that the budget is hopeless and the one which is based only on the central schemes.