State
Constitution a unifying factor for the nation: Dhami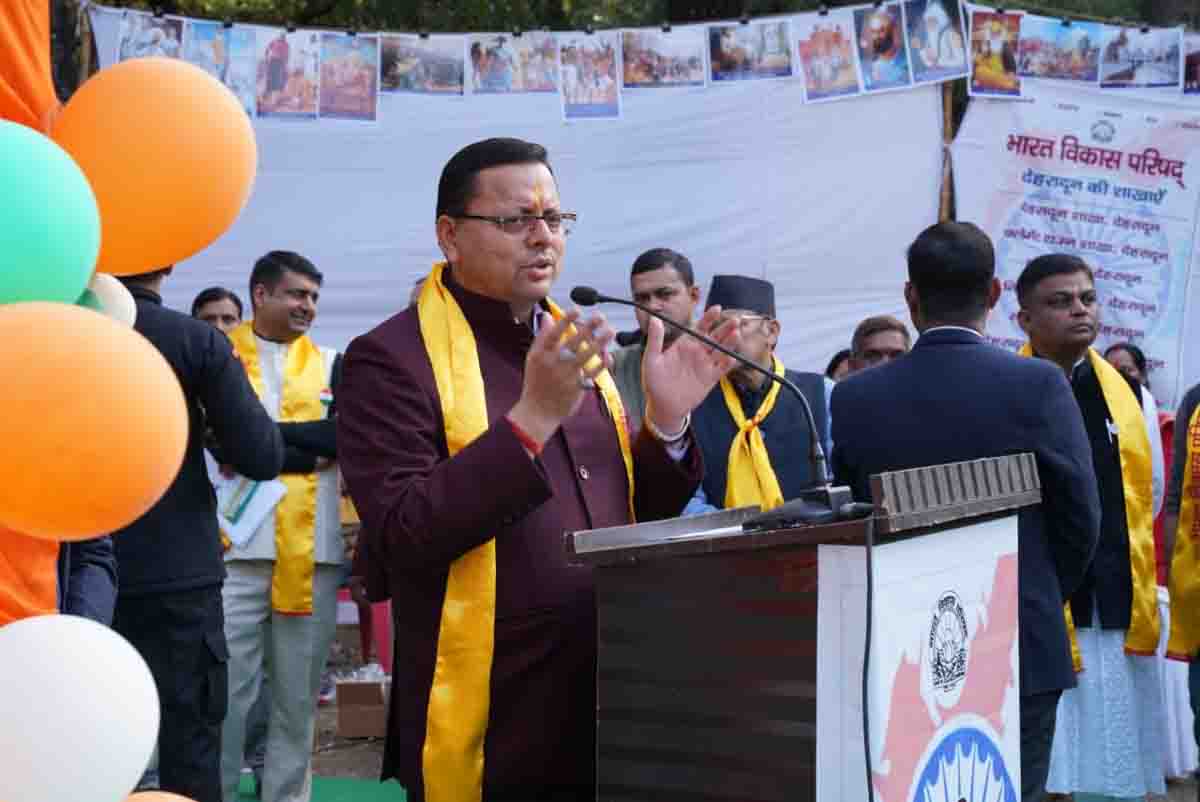 Saturday, 28 January 2023 | PNS | DEHRADUN
Chief minister Pushkar Singh Dhami said that India is a nation blessed with different religions, languages, castes and cultures and the task of unifying all these diversities has been done by our constitution. He was addressing a collective Vande Mataram singing programme organised by the Bharat Vikas Parishad (BVP) at Gandhi Park here on Republic Day.
The CM said that for making a new India, we should take the commitment of justice, liberty, equality and fraternity mentioned in the constitution of India. Appreciating the collective singing of Vande Mataram programme, the CM said that such events help the younger generation to get acquainted with the rich history of the country. He said unity in diversity is the uniqueness of India. The CM said that the country has got a new identity under the leadership of Prime Minister Narendra Modi. Today the prestige of India has increased and the suggestions given by it are taken seriously in international forums. He said that India is among the top five leading economies of the world. The CM said that under leadership of PM Modi India is hosting and presiding over the G20 summit this year. He said that two important meetings of G20 summit are proposed to be held in Uttarakhand as well and it is an opportunity for us to showcase our cultural heritage, Yoga, tourism and Ayush to the world. 
Dhami said that the United Nations General assembly had declared 2023 as the International Year for millets on the proposal of India. This would encourage the usage of millets in the society. He said that the Government of India has approved the proposal to purchase Mandwa (finger millet) at minimum Support Price (MSP) and a price of Rs 3,578 per quintal has also been declared for it.
In his address the CM also mentioned the steps taken by PM Modi and government during the pandemic period. He said that the task of free vaccination in the whole of the country is in progress and India has provided free vaccines to other countries as well. Dhami said that the State government is regularly monitoring the situation in Joshimath and it is committed to provide complete help to the families affected by land subsidence. He said that the State government is standing with the affected families with complete sympathy and sensitivity. The CM added that PM Modi too is constantly in touch on the issue.
Congratulating everyone and giving greetings of Vasant Panchami and Republic day, the CM exhorted everyone to participate in the journey of development of the State. He felicitated the teachers and students on the occasion.