Breaking News
CM Dhami initiates Har Ghar Tiranga campaign in U'khand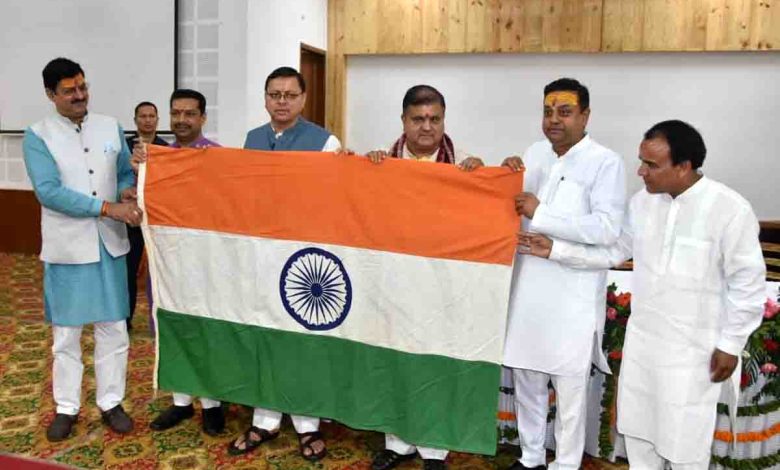 Tuesday, 02 August 2022 | PNS | Dehradun
BJP national spokesman Sambit Patra hands over the tricolour to CM & BJP State president
Chief Minister Pushkar Singh Dhami started the Har Ghar Tiranga campaign in a programme held at his camp office on Monday. In the programme, the Bharatiya Janata Party national spokesman Sambit Patra handed over the national flag to CM Dhami and the president of Uttarakhand BJP Mahendra Bhatt. The CM and the BJP leaders also held a meeting with the representatives of different nongovernmental organisations and societies.
Speaking on the occasion, the CM said that Prime Minister Narendra Modi has made an appeal to the people to take up the Har Ghar Tiranga campaign on a massive scale. He said that in Uttarakhand the national flag would be unfurled in 20 lakh households and the cooperation of NGOs and societies is being taken in the campaign. Dhami said that apart from being a Dev Bhoomi, Uttarakhand is also a Veer Bhoomi and we should always remember those who sacrificed everything they had for the freedom of the country. He said that our country is remembering the freedom fighters on the 75th anniversary of independence as Azadi Ka Amrit Mahotsav. He said that 1250 Amrit Sarovars would be constructed in the state. Making an appeal to the people of the state to place the picture of tricolour as DP of social media accounts and hoist the national flag on their houses from August 13 to 15, the CM said that a Tiranga Yatra would be taken out in Dehradun on August 9.
The national spokesperson of BJP Sambit Parta said that the Har Ghar Tiranga campaign is the programme of manifestation of patriotism and in it a request has been made to the countrymen to hoist the national flag on their houses from August 13 to 15. He said that the campaign is not merely a government programme but it is actually a public campaign and everyone should be a part of this. Patra said that a campaign of garlanding the statues of martyrs and their cleanliness would also be launched during the ongoing Azadi Ka Amrit Mahotsava. He said that PM Modi has made an appeal to the people to make the picture of the National Flag as the DP of their social media accounts in his Man Ki Baat programme. Patra added that all organisations and societies should be involved in the programme and the school children should be taught about the stories associated with the freedom movement of the country.
The cabinet minister Dhan Singh Rawat , general secretary organisation of BJP Ajey Kumar, general secretary Kuldeep Kumar and representatives of different NGOs and others attended the programme.