Crime
Police arrest woman & partner for killing ex-husband for property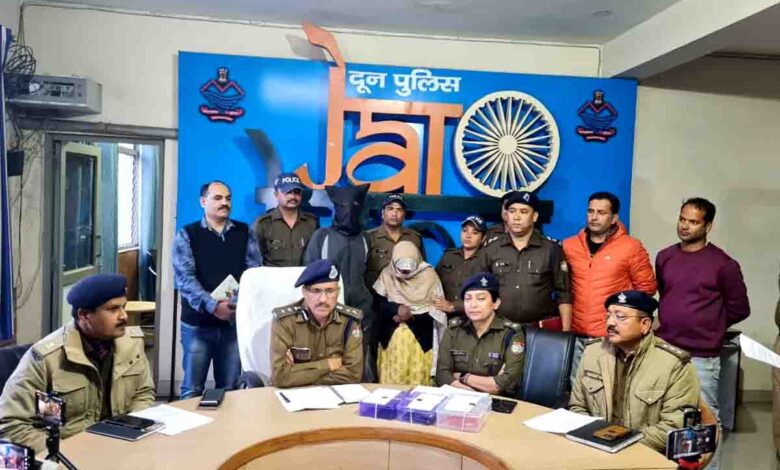 Friday, 25 November 2022 | PNS | DEHRADUN
A woman and her alleged lover were arrested on Thursday by Dehradun police for allegedly killing her ex-husband for property. The police have claimed to have nabbed both the accused within 12 hours of the complaint being filed. Addressing the media here on Thursday, the Dehradun Senior Superintendent of Police (SSP) Daleep Singh Kunwar informed that police received information on Wednesday morning about a dead body lying in a house in Baluwala village in Sahaspur. The police team reached the spot and called the forensic team for analysis.
The police registered a complaint of the murder filed by Pushpa Devi, sister of the deceased Guman Singh, under relevant sections and started investigation. The SSP said that several police teams were formed to work on different aspects of the case to nab the killer as soon as possible. The police checked 45 CCTV camera footage of the area and collected evidence through surveillance and other means that led to the arrest of the alleged lover of the deceased's ex- wife, Ranjit Singh Negi in Sahaspur on Thursday. The police arrested him along with two SIM cards, two mobiles and a bike he used during Guman Singh's murder, informed SSP. He said that Negi, a resident of Tehri district, was allegedly involved in the murder too. Asha, ex-wife of the deceased was also arrested later and confessed of murdering Guman.
The SSP said that Asha stated during the inquiry that she and Guman got divorced in 2013 but their children have been living with him. She said that her husband recently sold a house in Baluwala and was spending money on recreational activities. She said that he did not give her or their children any money and accused him of being violent too.  "She made a plan to kill Guman Singh along with Ranjit Negi who she claimed to have a close relationship with. She said that they met in a factory in Selaqui where they both work. She said that she called the ex-husband to her house in Baluwala on Wednesday and gave him sleeping pills with food. Both accused strangled him with a rope and left the scene after taking his mobile phone. The accused will be produced before the court," said the SSP.