Breaking News
Haripur to be developed as a new pilgrimage site: CM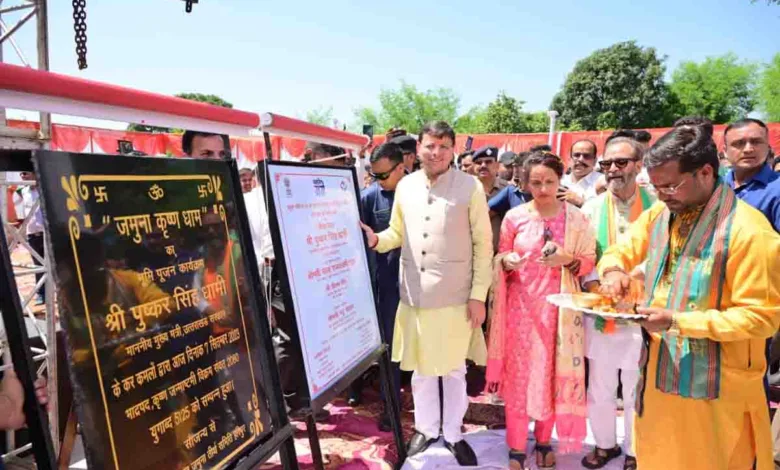 Lays foundation stone of a majestic Ghat & temple on bank of river Yamuna in Kalsi
FRIDAY, 08 SEPTEMBER 2023 | PNS | DEHRADUN
Chief Minister Pushkar Singh Dhami has said that the Haripur area on the bank of river Yamuna in Kalsi will be developed as a new pilgrimage site. He said that the State government will provide every possible help to ensure that the area becomes world famous like Haridwar and Rishikesh.
The CM was participating in a programme organised at Ramlila ground in Kalsi, Dehradun on Thursday. In the programme he laid the foundation stone of the Yamuna Ghat in Haripur ( Kalsi) and Jamuna Kishna Dham ( temple). Speaking on the occasion, the CM said that the construction of a grand Ghat on Yamuna will be completed with the blessings of river Yamuna. He said that the Haripur area is the centre of religious beliefs. The CM said that the initiation of construction in Haripur on the auspicious occasion of Janmashtami is a good sign. He said that Haripur used to be a mega pilgrimage site in ancient times and is an important point on the Char Dham Yatra as well. The CM said that the development of Haripur as a new site of pilgrimage will create new employment opportunities in the area. He said that Haripur is a sacred place of confluence of Yamuna, Tons, Norra and Amalwa rivers. The CM said that a pristine and grand Arti of Yamuna will be regularly organised in the area.
He said that the State is moving ahead on the path of development with the help of the union government. He said that the centre has given in principle approval for broadening of Herbertpur- Yamunotri road and the work on the project will commence soon. This project will help in commencement of Char Dham Yatra from the Vikasnagar and Kalsi area as well.
The Vikasnagar MLA, Munna Singh Chauhan said that Haripur holds historical significance and with construction of Ghats the area will emerge as an important religious site.
The programme was also attended by Tehri MP Mala Rajya Laxmi Shah, district panchayat president Madhu Chauhan, Meeta Singh, additional secretary Ranvir Singh Chauhan, VC MDDA Bansidhar Tiwari, K S Chauhan and others.