Breaking News
CM discusses aspects of defence & tourism with Union ministers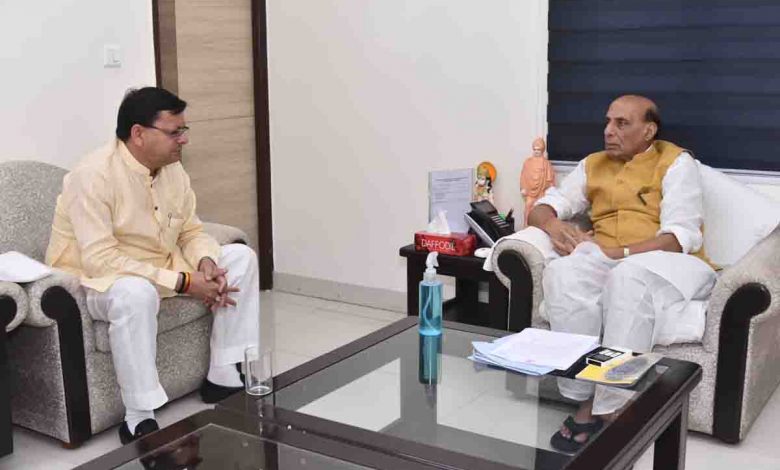 Friday, 24 June 2022 | PNS | Dehradun
The chief minister Pushkar Singh Dhami met Defence minister Rajnath Singh and Union Tourism and Culture minister G Kishan Reddy during his Delhi visit on Thursday. In the meeting with Singh the CM informed the Defence minister about an interaction held by him on June 20 with armed forces veterans on the Agnipath scheme of recruitment in the army. He said that in the interaction all the former officers were of the view that the Agnipath scheme is suitable for the modernisation of armed forces, security of the country and bright future of the youth. Dhami also shared the suggestions given by the veterans regarding the Agnipath scheme with the Defence minister.
He said that the centre has given its approval to set up another Sainik school at Jakholi in Rudraprayag district. For the establishment of the school the State government should provide infrastructure facilities but in view of the meagre resources of the State the government of India should provide financial help to the State, he said.
In his meeting with Reddy, the CM sought approval in principle for a special central package to finance development of a heritage circuit in Kumaon region and development of Rishikesh as an international/iconic tourist destination. Dhami informed the Union minister that the State had prepared a proposal for development of prehistoric religious caves in Pithoragarh, Champawat, Kainchi Dham in Nainital, heritage circuitinAlmora, construction of heliports for better connectivity, Om Parvat circuit, development of home stays and development of heritage sites. Dhami further said that Rishikesh on the banks of the Ganga is world famous as a Yoga city. There is a plan to develop it as an international tourist destination by enhancing its tourism capacity and attractions. He requested Reddy for approval in principle from the Centre for a special package to finance both these projects.