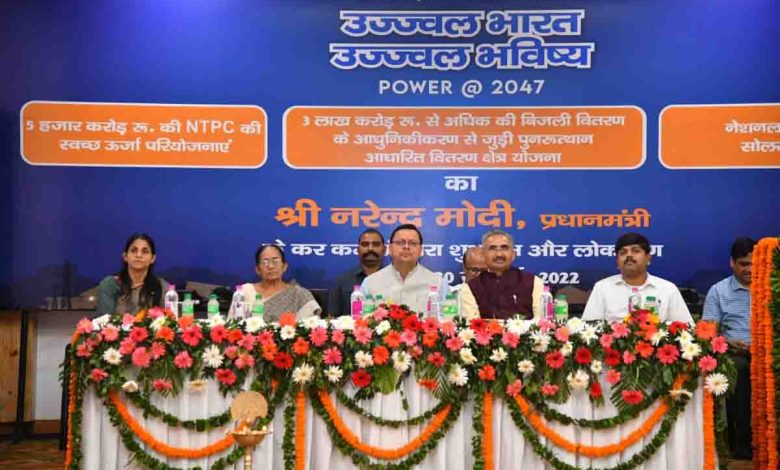 Sunday, 31 July 2022 | PNS | Dehradun
Chief Minister Pushkar Singh Dhami has said that the Union ministry of Power has approved many power projects in the State under the leadership of Prime Minister Narendra Modi and Uttarakhand has also benefited from the schemes of the ministry. He attended the valedictory ceremony of the ' Ujjwal Bharat, Ujjwal Bhavishya- Power/ 2047 via video conferencing session from his camp office on Saturday. The Prime Minister Narendra Modi attended the programme as a chief guest. The PM also launched different green power projects of NTPC and inaugurated the national rooftop solar portal on the occasion.
The Uttarakhand CM said that power and tourism were among the key sectors with immense potential at the time of creation of a separate state and the Uttarakkahnd government is working on it. He said that participation of all citizens is needed in making Uttarakhand one of the leading states of the country by the year 2025. He said that in the recent power crisis the state government purchased power at higher prices to maintain supply in the state.
The CM said that the prestige of the country has increased during the last eight years of Prime Minister Narendra Modi. He said that new initiatives have been taken in many sectors under the leadership of PM Modi and under his leadership a new work culture has evolved in the country. Dhami said that the economy of the world got severely affected during the pandemic of Covid-19. Under the leadership of PM Modi India effectively controlled the pandemic. The CM said that two vaccines of Covid-19 were developed indigenously and 20 Crores doses of vaccines were supplied by India to other countries. The CM said that more than 200 crores doses of vaccines have so far been administered in the country and the campaign of administering booster doses is going on in the country.
The mayor of Dehradun Municipal Corporation (DMC) Sunil Uniyal 'Gama', MLA Savita Kapoor, Secretary R Meenakshi Sundaram, District Magistrate (DM) of Dehradun Sonika, Managing Director (MD) of Uttarakhand Power Corporation Limited (UPCL) Anil Kumar and others were present on the occasion.