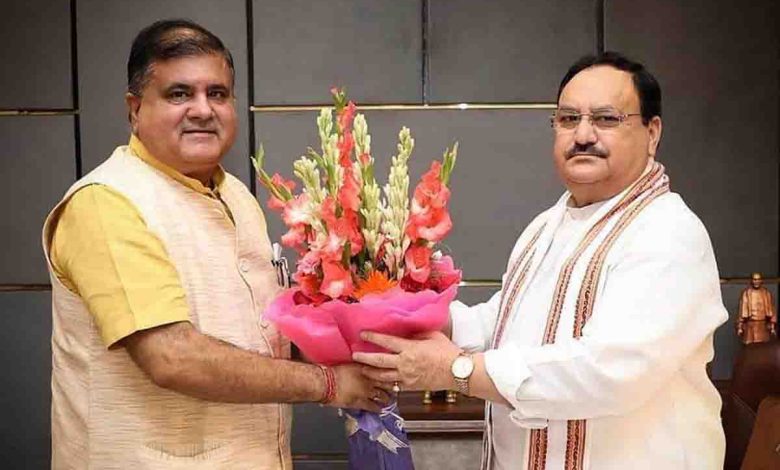 Sunday, 31 July 2022 | PNS | Dehradun
Exhorts party workers to prepare for Lok Sabha & Panchayat elections
Within a day of the Bharatiya Janata Party announcing its decision of changing its State president, former Badrinath MLA Mahendra Bhatt assumed charge as the BJP State president replacing Madan Kaushik on Saturday. The decision came as a surprise for some but political analysts opine that Bhatt suits the ongoing national scenario more than Kaushik who had also elicited controversy during the 2022 Assembly election when the sitting MLA of Laksar and party candidate Sanjay Gupta had accused Kaushik of helping the opposition to defeat him (Gupta). His performance as the party chief was also questioned when the BJP managed to win only three out of 11 Assembly seats in Haridwar district. Though Kaushik managed to win from the Haridwar constituency, the performance of other party candidates in constituencies from the district was far from impressive. However, under Kaushik as the State party chief, the BJP managed to break past political trends and secure a second consecutive win in the Assembly elections. Further, Kaushik may be a more suitable candidate for the cabinet than the BJP State president, considering his experience in handling various portfolios as a cabinet minister, opine political observers.
Meanwhile, after assuming charge as the party's State chief, Bhatt thanked the party's central leadership and said that he will work with the cooperation of all party members and the guidance of senior party leaders.
Taking over the charge from Kaushik, Bhatt thanked Prime Minister Narendra Modi and BJP national president JP Nadda and other national leaders of the party for trusting him. Addressing the party workers, he exhorted them to prepare for the coming Panchayat and Lok Sabha elections. Calling himself as a simple worker of the party, he recalled his experiences stating that from the start he had undertaken all small and big works of the party with full dedication while always trying to learn something new and better from his peers and seniors.
Earlier, Kaushik welcomed Bhatt and said that he was politically consistent and possessed efficient organisational capabilities. He expressed hope that under him the party will become stronger and more popular.Kaushik also thanked all the party workers for working sincerely during his own tenure as the party's state president.