Others
Team felicitated after return from Raktvarn expedition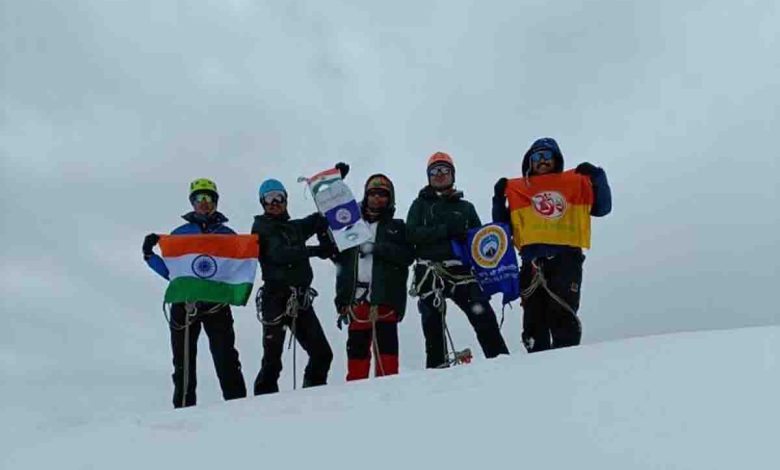 Tuesday 27 September 2022 | PNS | DEHRADUN
Balkrishna claims to have found & listed 550 rare medicinal herbs
Acharya Balkrishna of Patanjali Yogpeeth claims to have found various rare medicinal herbs while on an expedition to the higher peaks ahead of Gaumukh in Uttarkashi. He along with the Nehru Institute of Mountaineering team headed by its principal colonel Amit Bisht were felicitated at Patanjali on their return from the expedition which saw the team climbing three unnamed peaks.
Speaking on the occasion, Swami Ramdev said that the expedition was not only historic but also very difficult as it involved climbing peaks where people have rarely gone. He said that after the last attempt 42 years ago in 1981, nobody had gone to that region.
Addressing the gathering, Balkrishna said that in addition to searching for rare herbs in the Himalayan region, the expedition team also studied the condition of the high peaks. The three peaks situated above 6,000 meters altitude were named Rashtrarishi, Yogrishi, and Ayurvedrishi by the team. The expanse between the peaks was named Rishi glacier or Rishi Bamak. He said that during the expedition, the team had identified 550 rare herbs and prepared their checklist. A herbarium of these herbs is being created. He further said that these herbs will be the subject of detailed research.
It will be recalled that the expedition in the Raktvarn glacier area of Gangotri began on September 10 and continued till September 25. The expedition was flagged off from Gangotri on September 14 by chief minister Pushkar Singh Dhami and Ramdev. The mountaineering team was headed by the NIM principal. This region was last visited by a joint Indo-French expedition team in 1981. Despite its best efforts, the team could cover only half of the area, according to Patanjali officials.