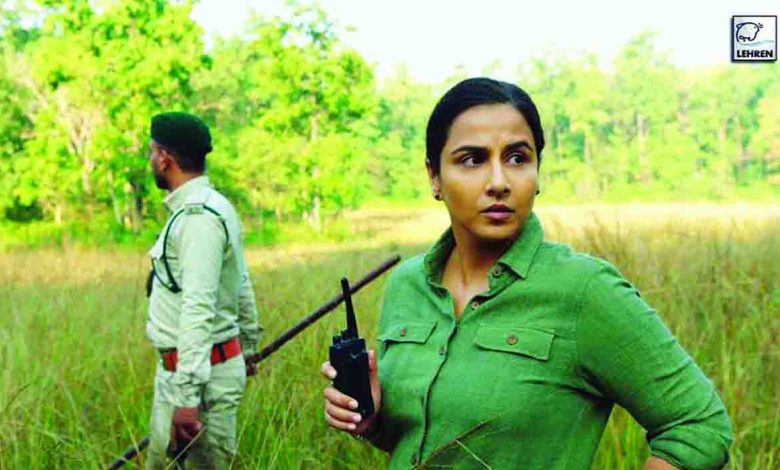 Sunday, 20 June 2021 | Shalini Saksena
Amazon Prime Video: *ing: Vidya Balan, Neeraj Kabi, Vijay Raaz, Sharat Saxena, Brijendra Kala, Ila Arun, Mukul Chadda
It is rare for Bollywood to make a film on animal-human conflict. Rarer still is for it to rope in mainstream actors to tell the story. Therefore, Sherni directed by Amit Masurkar is a refreshing change even though the run-time of 130 minutes is a bit long and appears to drag unnecessarily. Masurkar, the man behind films like Newton, uses the ageold conflict of animal-human rather beautifully — in this case it is a tigress which is attacking the cattle and then humans.
Reading about this conflict is common. Newspaper headlines are filled with such articles where the villagers have lynched a leopard that entered the village or the death of an elephant because it entered human habitat. What is interesting about Sherni is that instead of telling the story in a docu-style, Masurkar decided to weave a story around it. This means that there is bound to be an instant connection in the minds of the viewers.
Vidya Balan who plays Vidya Vincent, a forest officer, helms this film that shows the story from both perspectives — the humans who have to make a living and the animal whose habitat is being cut into. Not to mention the politics that comes into play and in the end, it is the animal that pays the price. Still there is a silver lining — that Nature and its creatures are resilient and they were here before humans settled, will be there and continue to be here even though man would be long dead and gone.
Balan plays the role of the officer well. To see her play an understated and somewhat of a yes sir officer is strange though. Over the years, she has played some powerful characters like Sulu in Tumhari Sulu, Vidya Bagchi in Kahaani and Begum Jaan in Begum Jaan to name a few.
Her frustration and need to change the system that will benefit the animal and humans comes across as stark and clear. So much so that the viewers will feel it too. Vijay Raaz as a Professor who studies moths lends a hand that propels Balan's character. Neeraj Kabi, Sharat Saxena, Brijendra Kala, Ila Arun and Mukul Chadda do their bit even if their presence is in fits and starts.
Over all, it is a movie that makes for an interesting watch.