Breaking News
Ruckus in Assembly- Speaker suspends Cong MLAs for one day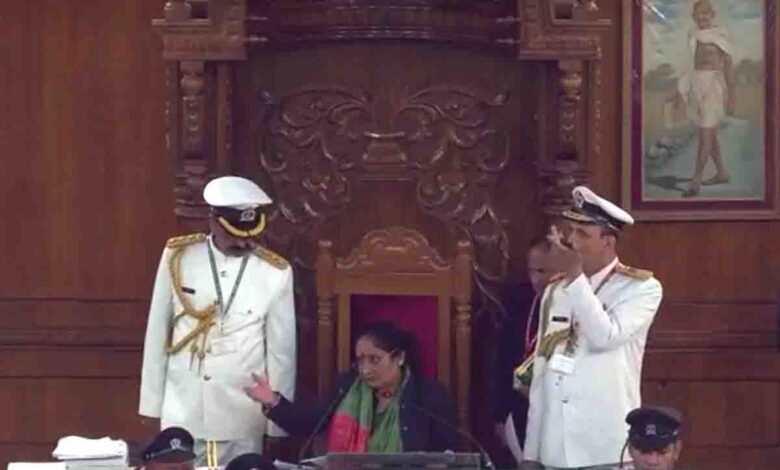 Wednesday, 14 March 2023 | PNS | DEHRADUN
On the second day of the budget session of the Vidhan Sabha, speaker Ritu Khanduri suspended 14 MLAs of the Congress party for one day after they protested in the well of  the house while tearing the rule book and other documents and throwing them at the chair. Incidentally the decision of the speaker to suspend the MLAs has happened only once in the past in the history of Uttarakhand. In the year 2007 six MLAs of Congress party including Harak Singh Rawat were suspended from the Assembly.
The trouble started when the Jaspur MLA Adesh Chauhan moved a breach of privilege motion against the Udham Singh Nagar senior superintendent of police. However speaker Khanduri turned down the motion. She ruled that since the issue is sub judice it cannot be taken up and a report has been sent to the government on it. This infuriated the Congress members who entered the well of the house. Some of the members charged toward the chair and pushed the secretary in-charge HC Pant out of his chair. The Congress MLAs Adesh Chauhan and Furkan Ahmed climbed the table of secretary and tore the rule book while shouting slogans against the government. The speaker repeatedly tried to pacify the Congress MLAs but her attempts failed. The speaker then suspended all the legislators involved in the ruckus for one day.
The speaker suspended the leader of opposition (LoP) in Assembly Yashpal Arya and MLAs Pritam Singh, Mamta Rakesh, Harish Dhami, Gopal Singh Rana, Vikran Singh Negi, Furkan Ahmed, Adesh Chauhan, Manoj Tiwari, Bhuwan Chand Kapdi, Anupama Rawat, Sumit Hridayesh, Ravi Bahadur and Virendra Kumar.
Talking to the media later, the speaker said this kind of unruly behaviour, breaking the table, pushing the secretary in-charge inside the Assembly is not acceptable. "If they had a problem with the decision, a way out could have been found through talks. This kind of unruly behaviour is not at all correct," she said.
Chakrata MLA Pritam Singh termed the speaker's decision wrong. He said that the issue raised by the Jaspur MLA Adesh Chauhan is very serious and was also brought before the chief minister but nothing happened. He claimed that the Congress MLAs had not used foul language during their protest.