Breaking News
Rain temporarily affects pilgrim movement to Kedarnath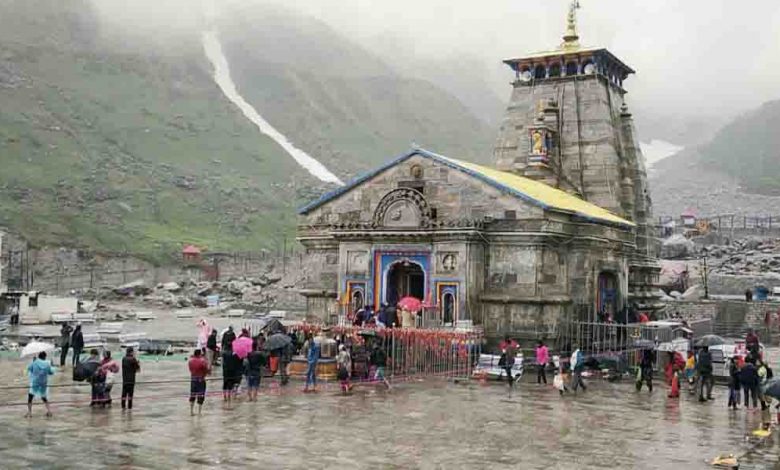 Hail, squall and intense showers forecast at isolated places today
Tuesday, 24 May 2022 | PNS | Dehradun
The rain on Monday caused authorities to stop pilgrims from going beyond Sonprayag towards Kedarnath after early morning as a precautionary measure. Those who were already ahead of Sonprayag and en route to Kedarnath were allowed to proceed while the others were requested to stay where they were. The Sonprayag police station officer Yogendra Gusain said that pilgrims were prevented from going beyond Sonprayag from about 9 AM due to considerable rain and fog in Kedarnath. Pilgrims were made to halt at various places and later on, those who had already progressed beyond Sonprayag and were en route to the shrine were allowed to proceed slowly after the rain became lighter. Meanwhile, temperatures came down noticeably due to rains experienced in various parts of the State on Sunday and Monday. The maximum and minimum temperatures dropped six degrees Celsius and four degrees Celsius respectively than the normal in Dehradun on Monday. The trend of rainy weather is likely to continue in the State on Tuesday with the State meteorological centre also issuing a warning regarding the possibility of thunderstorm accompanied with hail/lightning/squall (50-60 kmph gusting upto 70 kmph) at isolated places. Apart from this, the meteorological centre has forecast the possibility of light to moderate rainfall/thunderstorm likely to occur at many places with intense showers at isolated places in the districts on Tuesday.
The provisional State capital Dehradun is forecast to experience partly to generally cloudy sky. Rain/thundershowers accompanied with hail/lightning and gusty winds (50-60 kmph) are likely to occur in some areas. The maximum and minimum temperatures are likely to be about 32 degrees Celsius and 16 degrees Celsius respectively in Dehradun on Tuesday.
The maximum and minimum temperatures recorded in various parts of the State on Monday were 29.4 degrees Celsius and 26.9 degrees Celsius respectively in Dehradun, 28.4 degrees Celsius and 20.2 degrees Celsius in Pantnagar, 13.5 degrees Celsius and 8.7 degrees Celsius in Mukteshwar and 19.2 degrees Celsius and 9.2 degrees Celsius respectively in New Tehri.