Top Stories
RaGa raises Joshimath issue in his Bharat Jodo Yatra in J&K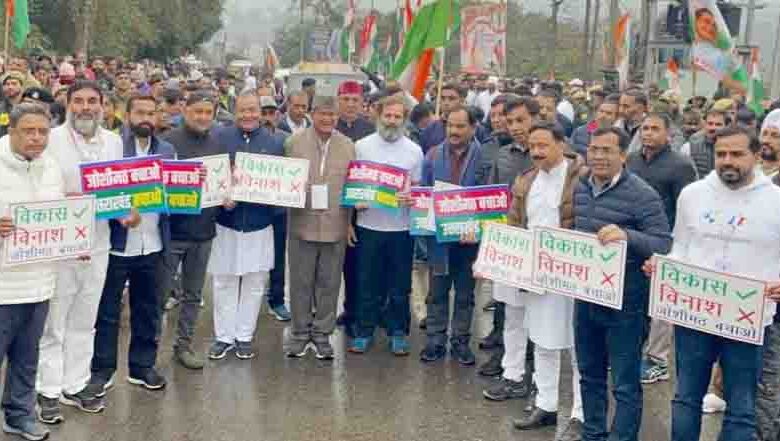 Wednesday, 25 January 2023 | PNS | DEHRADUN
The leaders of Uttarakhand Congress effectively raised the issue of continued land subsidence in Joshimath city and the plight of the affected families during the Bharat Jodo Yatra of Congress leader Rahul Gandhi on Tuesday. Holding banners and placards of ' Save Joshimath' and 'Development or Destruction', the top leadership of Uttarakhand Congress walked with Gandhi in Udhampur of Jammu and Kashmir on Tuesday. The Congress leaders also invited Gandhi to visit Joshimath city. He is likely to visit Joshimath in February.
The Pradesh Congress Committee (PCC) president Karan Mahara, the Leader of Opposition (LoP) in State Assembly Yashpal Arya, former chief minister Harish Rawat, former PCC president Pritam Singh, secretary of All India Congress Committee (AICC) Qazi Nizamuddin, former PCC president Ganesh Godiyal, former minister Harak Singh Rawat, Prakash Joshi, MLAs Vikram Negi, Madan Bisht former MLAs Ranjit Rawat, Vijay Pal Sajwan, Rajkumar and Anukriti Gusain took part in the Bharat Jodo Yatra on the day. The participants from the State Manish Khanduri, Lalit Farswan, Jyoti Rautela, Vaibhav Walia, Mohit Uniyal, Rajpal Bisht, Ishita Sedha and Ankit Shah were also present on the occasion.
The PCC president Mahara told The Pioneer that Rahul Gandhi expressed deep concern on the situation of Joshimath and opined that a comprehensive plan to save the Himalayas should be prepared and executed. Mahara said that Gandhi said that instead of forcing the Indian Space Research Organisation (ISRO) to withdraw its content on Joshimath, the findings should be used for preparing a plan for Joshimath. The PCC president said Gandhi also expressed his concern on unplanned and uncontrolled contruction activities and use of explosives in the Himalayas.
The spokesperson of Uttarakhand Congress Garima Dasauni said that the top leadership of Congress party is very sensitive on the issue of Joshimath and Rahul Gandhi dedicated an entire day of his Bharat Jodo Yatra to express his solidarity with the people of Joshimath.