Others
PCU to collect & sell Ganga Jal in India and abroad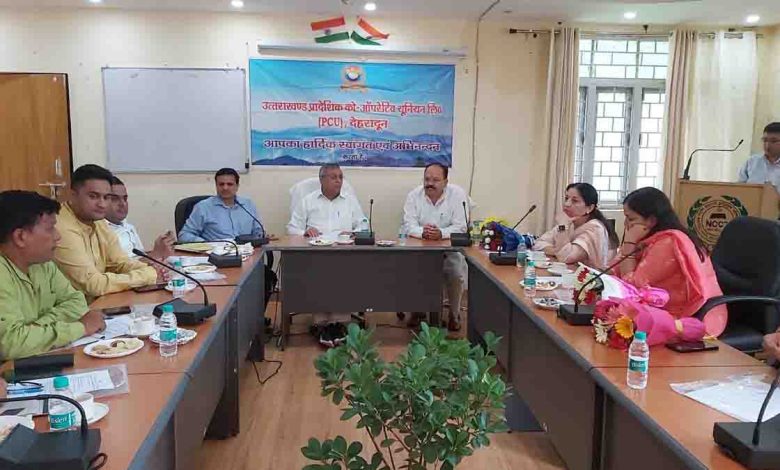 Friday, 06 August 2022 | PNS | DEHRADUN
Many decisions taken in the board meeting of the Provincial Cooperative Union (PCU) of Uttarakhand
The water of the holy river Ganga collected from its origin in Gangotri would now be available in the stores of the country and overseas locations. The Provincial Cooperative Union (PCU) of Uttarakhand would bottle and sell this water. This was one of the many decisions taken in the board meeting of the PCU held in Dehradun on Friday. The meeting was chaired by its president Ramakrishna Malhotra and 14 points were discussed in it.
Apart from sale of Ganga Jal, it was decided that stationery in the office of government and non government cooperative offices would be purchased through the PCU. It was decided that the employees of the cooperative banks would be trained by the experts and an institute of cooperative management research and training centre would be set up in the state.
It was told to the members that understanding between PCU Uttar Pradesh and Uttarakhand has been reached for distribution of assets and soon a high level meeting between the two sides would be held.
On the orders of the cooperative minister Dhan Singh Rawat, it was decided in the meeting that selection of 15 children of poor farmers would be done every year and free coaching for competitive examination of medical and engineering entrance would be provided to them.
An understanding that the PCU should be allotted a centre for purchase of paddy and for it a facility of overdraft should be provided to it from the district cooperative banks was also reached in the meeting. The meeting was attended by vice president Shailendra Singh Bisht, managing director Man Singh Saini, director Subhash Ramola, Pradeep Chaudhary and others.