Crime
Five arrested for attacking jeweller & making extortion call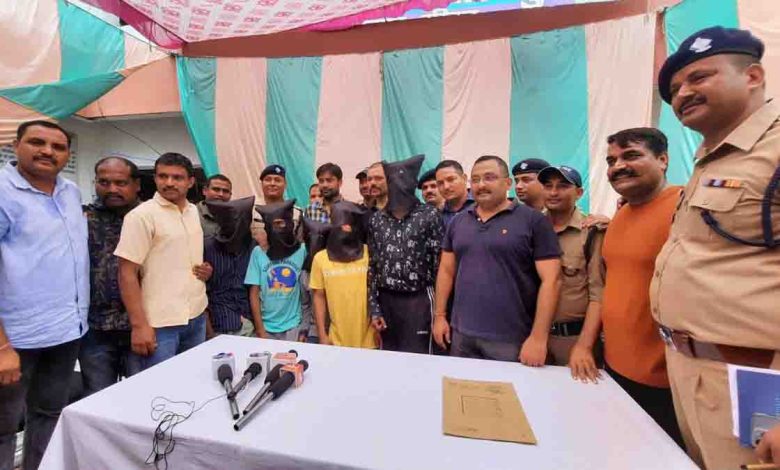 Friday, 06 August 2022 | PNS | HARIDWAR
The police have arrested five persons accused of first attacking then demanding Rs 50 lakh extortion from the owner of Mora Tara jewellery shop here. The police also recovered arms and mobile phones used in carrying out the criminal activities by the accused. The arrested accused are all natives of Bijnor district in neighbouring Uttar Pradesh and not connected to any big gang. The men have been identified as the main accused Pradeep Chauhan along with Sachin Prajapati, Kaushal Kumar, Arun Kumar and Anshul Kumar. The main accused is an MSc in industrial chemistry and was also accused in another bank robbery at Moradabad during 2015.
The Haridwar senior superintendent of police Yogendra Singh Rawat informed that an attempt was made to shoot Nipun Mittal, the owner of Mora Tara jewelers about a week ago. However, the bullet got lodged in Mittal's laptop. He had discovered the bullet on the next day and had filed a complaint in the Jwalapur Kotwali. After that, Mittal got an extortion call for Rs 50 lakh.
Rawat said that four teams were formed to investigate the attack and extortion call. After investigating various aspects, the police arrested the five men who are all educated persons. The main accused Pradeep Chauhan had hatched the conspiracy targeting Mittal in order to meet the expenses he needed for the settlement of a past case. Preparing for the crime, Chauhan had reconnoitered the jewellery shop while posing as a customer shopping for his wife. He had also spent a total of Rs six lakh on renting two flats in Haridwar and one in Delhi, where the five men had planned to hide after committing the crime. The SSP has announced a cash reward of Rs 25,000 for the team which cracked this case.