State
LoP Yashpal Arya visits Silkyara, demands CBI probe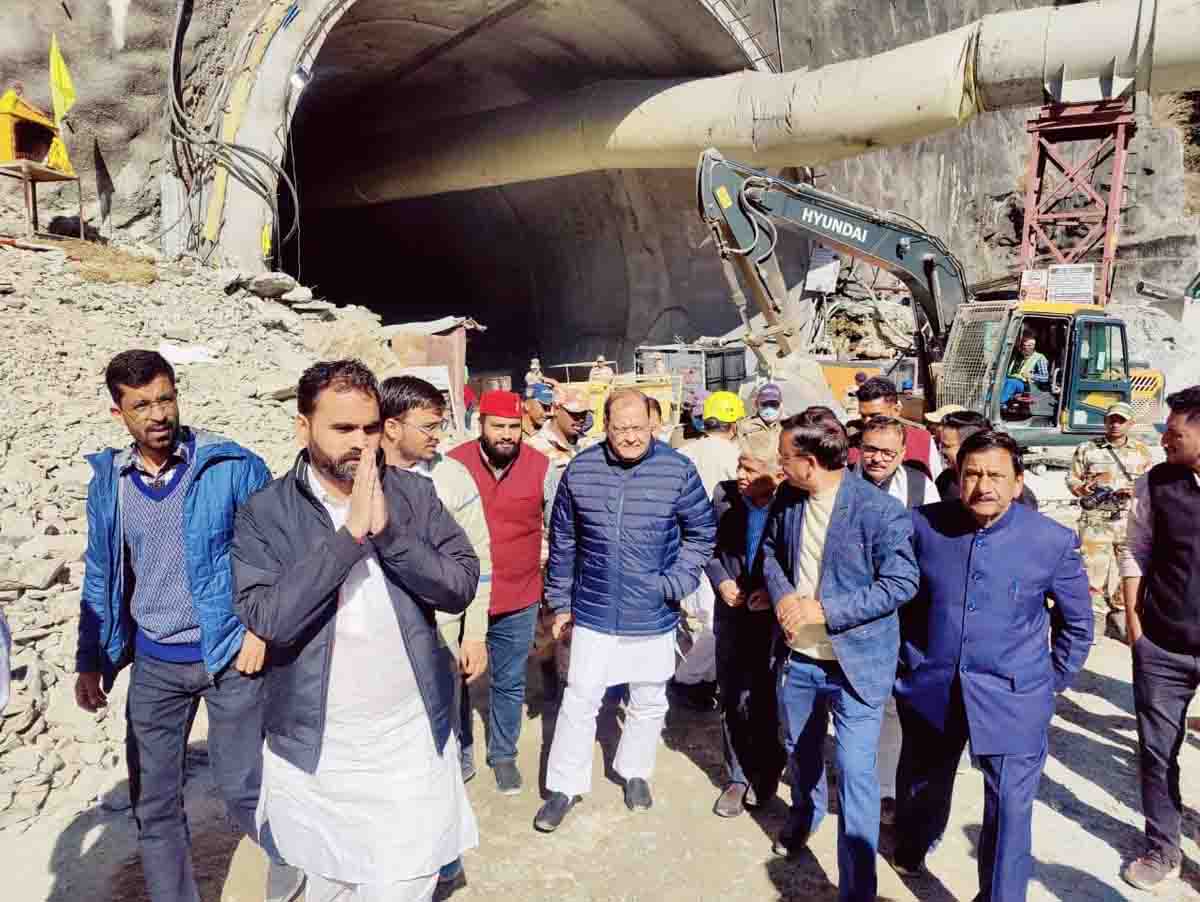 Tuesday, 21 November 2023 | PNS | DEHRADUN
The leader of opposition (LoP) in the State assembly, Yashpal Arya visited Silkyara in Uttarkashi to take stock of the rescue operation underway for evacuating stranded labourers. He met the technical experts, personnel of the agencies involved in the rescue operation and officers of the administration to inquire about the progress of the operation. Arya also met the relatives of the labourers trapped in the tunnel for the last eight days. He later said that the incident is the case of large scale corruption due to which lives of the trapped labourers is in peril and demanded that the government should file criminal cases against those responsible for the incident and hand over the investigation to the Central Bureau of Investigation (CBI). Arya said that gross negligence of the agency involved in the construction of the tunnel is apparent. He said that the adit tunnel and escape tunnels should be constructed at the time of start of the project but this was not done. In case of blocking of the tunnel due to debris the labourers could have come out of safety.
The LoP said that no long tunnel in the world is built without an adit tunnel; therefore the government should clarify how this five km long tunnel was being built without constructing an adit tunnel.
Arya said that another option for safe rescue of the people trapped in this project, the hume pipe, was also removed a few days ago. In the absence of an adit tunnel or hume pipe, the crime of pushing the workers working in the project to death has been committed. He said that the debris has fallen only in the initial 70 metres of the tunnel but even after nine days of the accident, everything is still uncertain. The progress of the six options that are being discussed for rescue operations is currently negligible on the ground, he claimed. The LoP said that no matter how big claims the government makes, the Silkyara accident has exposed disaster management at the state and national level.
He however added that despite all these shortcomings, he appreciates the courage and hard work of the personnel engaged in the rescue work and prays to god that all the trapped people are brought out safely.
Former MLAs Vijaypal Sajwan and Manoj Rawat, District Panchayat President Deepak Bijalwan, President District Congress Committee Uttarkashi Manish Rana, former District Panchayat President Naththi Lal Sah and others accompanied Arya.