Education
IIM Kashipur hosting 3-day Management Education and Research Colloquium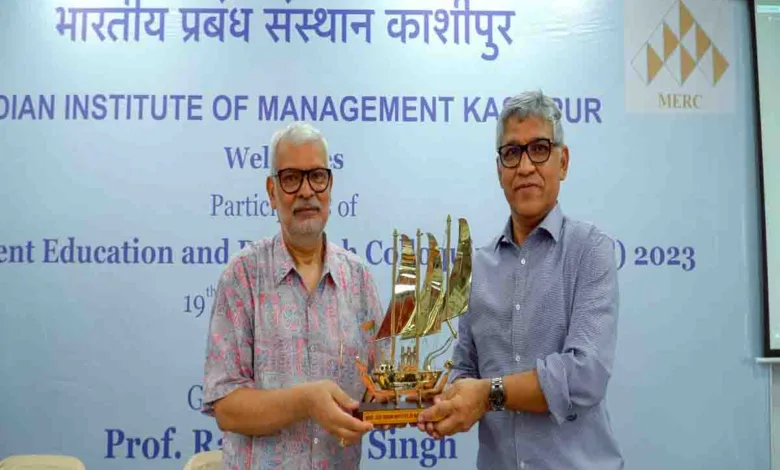 Saturday, 20 May 2023 | PNS | DEHRADUN
A three-day Management Education and Research Colloquium (MERC) hosted by Indian Institute of Management (IIM) Kashipur commenced on Friday. The institute officials said that MERC is a platform for the doctoral students to present their research to peers, professionals and other interested parties. In addition to paper presentations, MERC 2023 includes workshops on research methodology to assist the participants in improving their methodological rigour. This aside, there will be panel discussions on interdisciplinary research and climate change and sustainability. The institute officials further said that nearly 100 research papers have been received from several institutions across India.
Eminent academician Ramadhar Singh, who is the chief guest of the event, explained the importance of research in the overall education ecosystem through a presentation. He also elaborated on research effectiveness criteria and the problems the researchers face during the research process while also suggesting solutions like how one can choose the right supervisor, deposition of data and the like.
The Director, IIM Kashipur, Kulbhushan Balooni claimed that IIM Kashipur's publications have increased from 15 in 2019 to 98 in the last calendar year.
Doctoral scholars and researchers from across the country such as IIM Ahmedabad, IIM Visakhapatnam, IIM Calcutta, IIM Bangalore, IIM Indore, IIM Shillong, IIM Rohtak, IIM Bodh Gaya, IIM Sambalpur, IIM Ranchi, IIM Nagpur, IIM Kashipur, XLRI, MDI Gurgaon, BITS Pilani, FORE School of Management, Hyderabad University, IIT Madras and NIT Durgapur are participating in the event.