Top Stories
Focus on monthly targets to achieve revenue collection goal: CM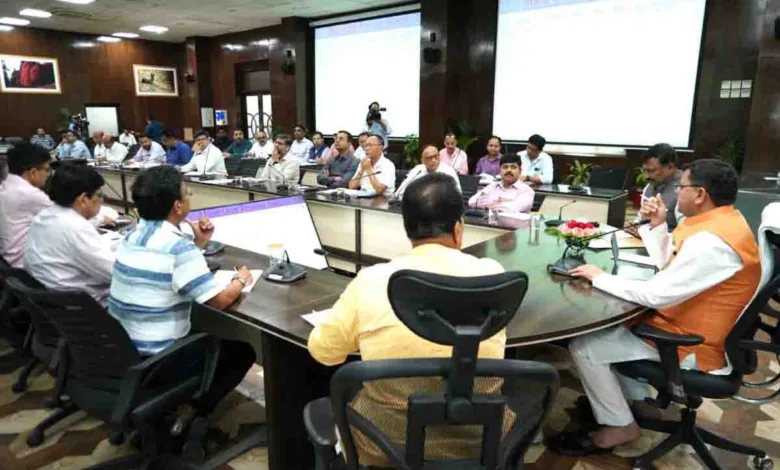 Wednesday, 24 May 2023 | PNS | DEHRADUN
Chief minister Pushkar Singh Dhami has directed the government departments to focus on meeting the monthly targets of revenue collection. Chairing a meeting on revenue collections at the State secretariat on Tuesday, the CM said that the departments would be able to achieve their annual targets only when the monthly targets of revenue are achieved. Stressing on further strengthening the online system of revenue collections, the CM said that emphasis should be laid on increasing the revenue receipts from the Goods and Services Tax (GST). He suggested that the general public should be encouraged to take bills and directed that an awareness campaign on a massive scale should be launched for it.
The CM asked the officers to work in a planned manner to achieve the revenue targets and said that the departments should focus on use of modern technology and transparency in the system. He said that the departments should work in coordination for increasing the revenue collections. Dhami said that in the areas where expected revenue collections are not taking place, the officers concerned should undertake an in-depth analysis to find out reasons for the failure and find solutions. The CM added that special focus should be done in capital expenses and the departments should focus on recovery of past years. The CM said that a strong online system should be set in place for revenue collection in the mining sector. He suggested that the seasonal streams in the forest areas should be earmarked and channelized. The CM said that the forest department should work in a more organised manner for better utilisation of the forest wealth. He added that the officers should work on innovations for better use of forest wealth. Dhami asked the officers that work on medicinal plants should be done with the help of Van Panchayats.
He said that there is a need for the Uttarakhand Power Corporation Limited (UPCL) and UJVN Limited to increase their revenue collections. Effective measures should be adopted to prevent power thefts in the State. The CM said that the monthly review of the revenue collections would be done.
Cabinet minister Prem Chand Agarwal, additional chief secretary Anand Bardhan, rincipal secretary RK Sudhanshu, principal chief conservator of forests Anup Mallik, secretaries R Meenakshi Sundaram, Dilip Jawalkar, AS Hyanki, Pankaj Kumar Pandey, HC Semwal, Vinod Raturi and others were present on the occasion.