Others
Blueprint sought from intelligentsia & departments to take U'khand to the top- Dhami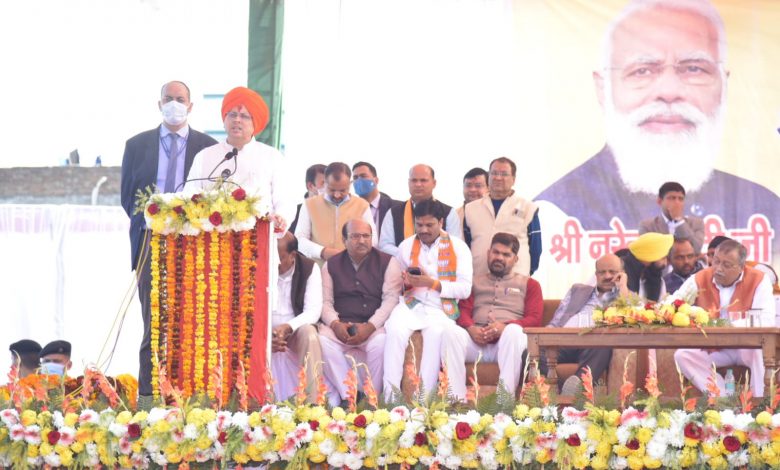 Monday, 06 December 2021 | PNS | Dehradun
Views of the intelligentsia are being sought to make Uttarakhand a model state among the top in India. By 2025, Uttarakhand will be made a leading state in the spheres of education, medical services, industry, horticulture, agriculture and employment among other areas. Blueprints are being sought from the departments too along with the intelligentsia for this purpose. Chief minister Pushkar Singh Dhami said this after launching development projects worth Rs 11,710 lakh at a programme held at Kashipur in Udham Singh Nagar district on Sunday. The chief minister inaugurated 11 schemes worth Rs 3,741 lakh and unveiled the foundation stones for 17 schemes worth Rs 7,969 lakh on the occasion.
Addressing the public gathering on the occasion, the chief minister claimed that all possible attempts are being made by the state government to ensure that the benefits of development reach even the last person. He also cited Prime Minister Narendra Modi's statement wherein he had stated that this decade would be of Uttarakhand.
Reiterating his claim that Uttarakhand would be a leading state when it would be celebrating the silver jubilee of its foundation in 2025, Dhami said that the blueprint for this is being sought from intelligentsia and the departments. He said, "The developmental journey is not somebody's personal trip but a collective journey. All of us will have to work together to lend wings to the dreams of this young state." Speaking about the steps taken by the state government Dhami said that the rate of Rs 355 per quintal and Rs 345 per quintal had been fixed for early and normal varieties respectively, which is a rise of Rs 29.50 per quintal. The Sitarganj sugar mill which had been closed since 2016 has been reopened while research is being conducted to facilitate the opening of the Kashipur sugar mill. Work is being undertaken on the single window system to resolve industrial disputes and prevent inconvenience to entrepreneurs. A team has been formed to resolve industrial disputes on the basis of one-time settlement. Dhami said that the state government has introduced a new sports policy so that talented players do not suffer due to lack of facilities.The chief minister also talked of other decisions of the state government. Cabinet minister Yatishwaranand, MLA Harbhajan Singh Cheema, mayor Usha Chowdhary and others were also present on the occasion.