Top Stories
Bhatt requests Union minister to prevent shifting of research centre from Mukteshwar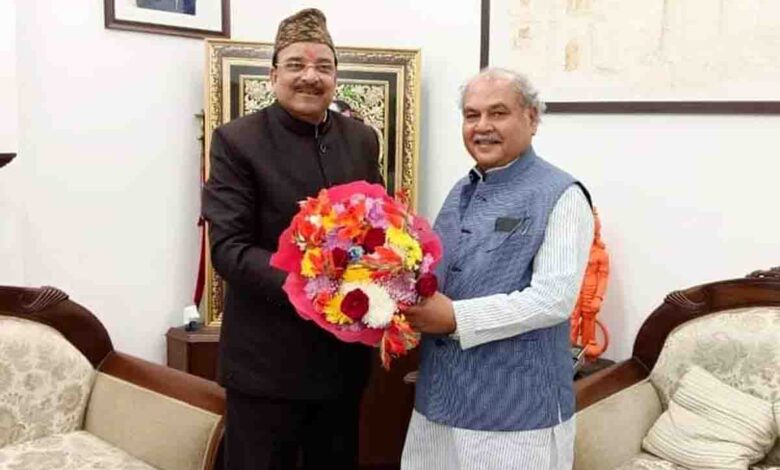 Wednesday, 30 November 2022 | PNS | NAINITAL
Foot & mouth disease research centre under ICAR slated to be shifted to Odisha
The Union minister of State for Defence and Tourism, Ajay Bhatt met the Union Agriculture minister Narendra Singh Tomar and requested that the foot and mouth disease research centre at Mukteshwar under the Indian Council of Agricultural Research (ICAR) should not be shifted elsewhere. Bhatt told the Union minister that an important research unit on foot and mouth disease was established during the colonial era at Mukteshwar in Nainital district and has been functioning till now.
On many occasions, the scientists working here have visited various remote areas of Uttarakhand and helped in controlling the deadly foot and mouth disease from spreading among animals. He said that the ICAR, New Delhi operates this centre but that he has received information about plans of the council to close the unit in Mukteshwar and shift it to Odisha. Various important research equipment have also been transferred from here to Odisha even though this equipment had been purchased specifically for research work at the unit in Mukteshwar. About 60 temporary employees earn their livelihood from the research unit in Mukteshwar and the shifting of the centre will deprive them of their livelihood.
Further, those involved in animal husbandry in more than 100 villages in the region will also be deprived of good veterinary treatment for their animals. Considering these aspects, Bhatt requested Tomar that the research centre should not be shifted from Mukteshwar.