Politics
Unsavoury comment : Congress demands apology from BJP state in charge Gautam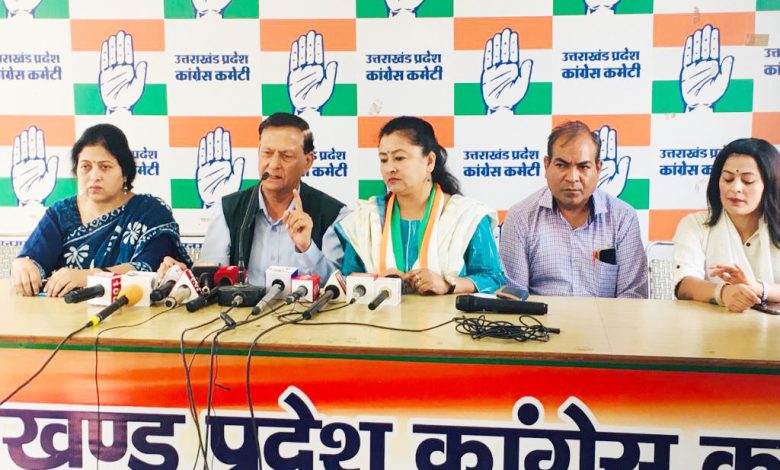 Thursday, 20 October 2022 | PNS | DEHRADUN
Reacting sharply to the unsavoury utterances which the in charge of Uttarakhand BJP Dushyant Gautam made for the Congress party leaders, the Uttarakhand Congress has said that the comment of the BJP leader is an insult to women. On the orders of the Pradesh Congress Committee (PCC) president Karan Mahara the party workers would burn effigies of Gautam in every district and register police complaints against him.
Interacting with the media persons at the headquarters of Uttarakhand Congress on Wednesday, the chief spokesperson of party in the State, Garima Dasauni said that the Gautam has said that the Congress leaders visit temples just to tease the girls. She said that the statement has exposed the mindset of the BJP leaders and their views about women. She said that it is not the first time that the BJP leader has made such a comment as last year too he had made unsavoury remarks about Congress leaders. She said that Gautam should know that the female workers of BJP had accused former general secretary Sanjay Kumar, former MLA Mahesh Negi and MLA Suresh Rathore for sexual exploitation. Dasauni said that the recent Ankita Bhandari murder case has thoroughly exposed the BJP and RSS. She demanded that the BJP high command should take immediate cognizance of the statement of Guatam and remove him from his position. Demanding apology from Gautam, the Congress leader said that the party would register FIRs against him in every district.
Media panellist of Congress, Sujata Paul said that the BJP and Sangh leaders have insulted women time and again in the country. Giving many examples in which the BJP leaders were involved in making derogatory comments on women, Paul said that BJP provides protection to such leaders. She said that Baba Ram Rahim has been released on parole ahead of elections in Himachal Pradesh and 11 convicted rapists of Bilkis Bani have been released before the Gujarat elections.
Former cabinet minister Hira Singh Bisht said that instead of making such derogatory comments it would be better if the state in charge of BJP conducts a review meeting of the development projects of the state government.