Breaking News
U'khand Govt provides safety cover to working women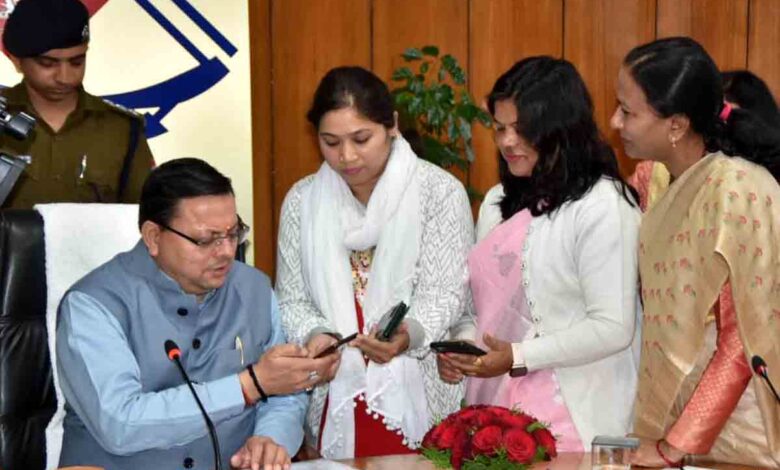 Sunday, 13 November 2022 | PNS | DEHRADUN
CM launches Gaura Shakti feature in U'khand Police App
In an important step towards ensuring the safety of working women, the chief minister Pushkar Singh Dhami launched the self registration facility for the women working in the government and other offices of the State in the Uttarakhand Police App on Saturday.
Speaking on the occasion, the CM said that working women can get themselves registered using the Gaura Shakti option in the app of the Uttarakhand police. He said that in view of women safety and empowerment, the working women should be encouraged to get themselves registered in the app. Dhami emphasised the need for proper publicity of the app and suggested that seminars should be organised in every district for the purpose. He directed that prompt action on the complaints received in the Gaura Shakti should be taken and the action taken should be monitored by the senior officers The CM expressed confidence that the self registration facility would help in generating a feeling of safety in the working women which is in accordance with the vision of Prime Minister Narendra Modi of developing better ecosystem for them.
The officers informed the CM that the information given in the registration would be kept secret and one woman sub inspector in every district has been deployed under the scheme. Similarly one woman sub inspector and one woman constable have been deployed in every police station. When a registration is made under the Gaura Shakti option in the Uttarakhand Police App, the female SI from the police station concerned would make a call to the woman and give information about completion of process of registration. Feedback would also be taken from time to time.
Under the scheme women can also submit e-complaints in the app. Important phone numbers and information about their rights and laws would also be available in the Gaura Shakti option.
The additional chief secretary Radha Raturi, director general of police Ashok Kumar, secretaries R Meenakshi Sundaram, Shailesh Bagauli, AS Hyanki, Ravinath Raman, additional director general of police V Murugehan, inspector general AP Anshuman and others were also present on the occasion.