State
Uttarakhand Congress targets Dhami govt over recruitment scams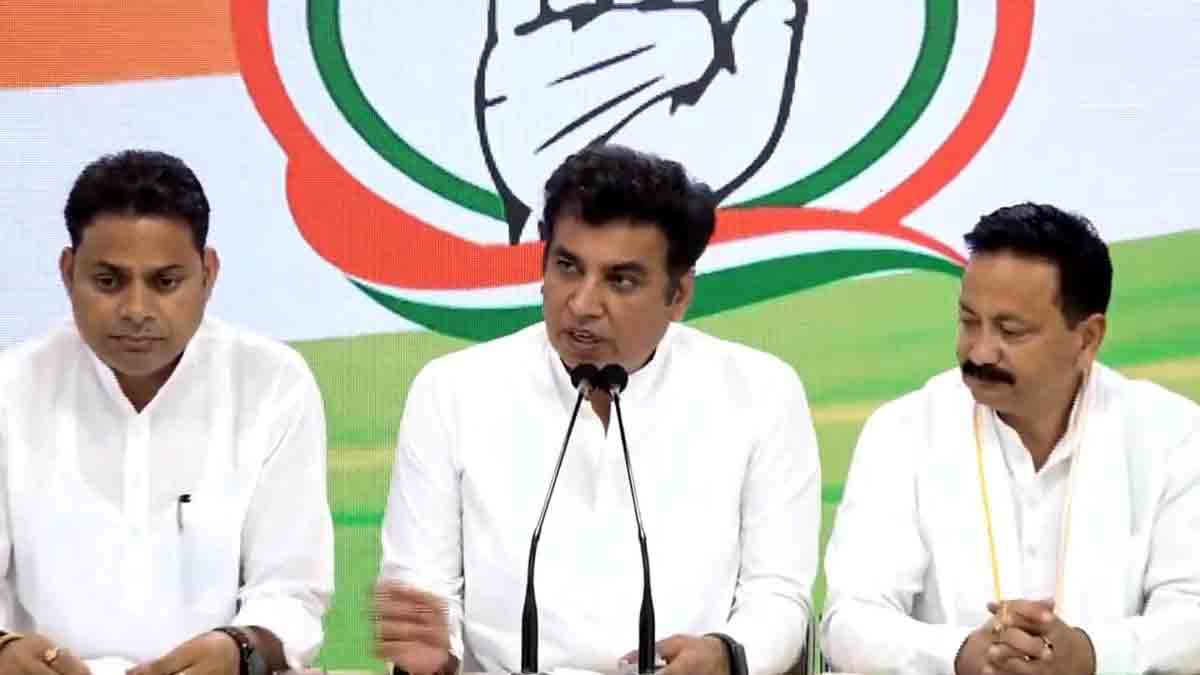 Tuesday, 30 August 2022 | PNS | Dehradun
State in charge Yadav, PCC President Mahara demand CBI probe in all recruitment scams of State
Emboldened by the social media post of the former president of Congress Rahul Gandhi on recruitment scams of Uttarakhand, the Congress leaders of the State have intensified their attacks on the Pushkar Singh Dhami government. On Monday the in charge of Uttarakhand Congress Devendra Yadav, the Pradesh Congress Committee (PCC) president Karan Mahara and the deputy leader of the Congress Legislature Party (CLP) Bhuwan Kapdi held a press conference in New Delhi while former PCC president Ganesh Godiyal held a fast at the martyrs' memorial at collectorate Dehradun on the issue. The State unit of the party would protest in all districts on Tuesday August 30 in which effigies of the state government would be burned.
In Delhi the Congress leaders demanded that a Central Bureau of Investigation (CBI) inquiry should be ordered in the Uttarakhand Subordinate Services Selection Commission (UKSSSC) examinations paper leak cases and recruitment scams in the education department, cooperative department, secretariat guards and judicial services.
The in charge of Uttarakhand Congress Devendra Yadav said that the manner in which the incompetent people managed to get jobs in the UKSSSC examinations, Vidhan Sabha, cooperatives, education and police departments shows that ruling party in collusion with bureaucracy distributed jobs to its near and dear ones.
The PCC president Mahara thanked Congress leader Rahul Gandhi for taking up the issues of recruitment scams in Uttarakhand and said that the relatives and persons near to former Chief Minister who now is Governor of a State, incumbent CM, Rajya Sabha MP, Ministers and senior functionaries of RSS were able to get government jobs in Uttarakhand. He said that the double engine government of the State which boasts about 'zero tolerance on corruption' has got exposed by the series of recruitment scams. The deputy leader of CLP Kapadi said that the State government has maligned the image of Devbhoomi Uttarakhand by allowing the UKSSSC to become a haven for corruption. He alleged that the jobs were either sold to the aspirants or were given to the relatives of the BJP leaders in Uttarakhand. Kapadi said that in an attempt to save the skin of actual masterminds and big fishes the Uttarakhand government has handed over the inquiry of UKSSSC scam to the Special Task Force (STF) which has only arrested small fishes. He said that since the people of Uttarakhand have no faith left now on these agencies, the task of investigating all these recruitment scams should be handed over to the CBI.