Others
TBM part from Germany reaches Tehri for digging 14.8 km rail tunnel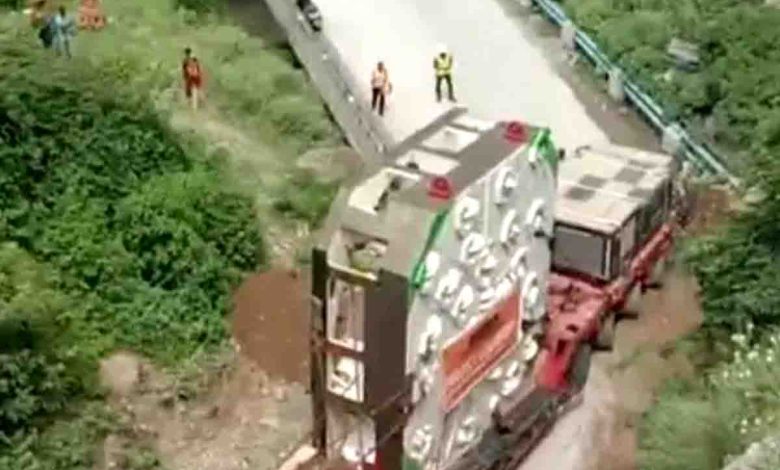 Sunday, 07 August 2022 | PNS | NEW TEHRI
A part of the tunnel boring machine (TBM) from Germany brought here to dig among the longest railway tunnels in the nation for the Rishikesh-Karnprayag was successfully Ramkund bridge after reaching Devprayag in Tehri district. The railways had conducted a load bearing test of the Ramkund bridge by keeping the Pauri-Devrprayag road closed to traffic for three days from July 26 before bring the heavy machine here.
On Saturday, a part of the TBM reached Devprayag. The machine is to be used for digging a 14.8 kilometres long tunnel at Saud in Devprayag for the Rishikesh-Karnprayag rail project. The executing agency for this part of the work, Larsen and Toubro had entered into a contract with a German company last year for the making of two TBMs. The machines reached Gujarat from the sea route from where a part of a machine was dispatched for Devprayag. Senior manager of the rail project, OP Malgudi said that the TBMs transported in two parts from Germany will be reassembled once they reach Devprayag. The 11 kilometre stretch of the tunnel till Gyansu will be dug using the TBM. The machine is capable of digging 42 to 70 metres in a week. The remaining 3.8 kilometres stretch of the tunnel will be dug using the traditional drill and blast technique. Malgudi further said that the geological composition of the stretch between Saud and Gyansu made the builders choose the TBM for digging the tunnel. The work of digging the tunnel using the TBM is expected to begin before the end of this year.
Meanwhile, the local police managed the movement of the traffic to enable the transportation of the TBM part past the Ramkund bridge. The Saud village is about two kilometres from this bridge. Due to the heavy load, it took about two hours for the equipment to be transported about one kilometre here.