Sports
State-level Khel Mahakumbh to commence from December 29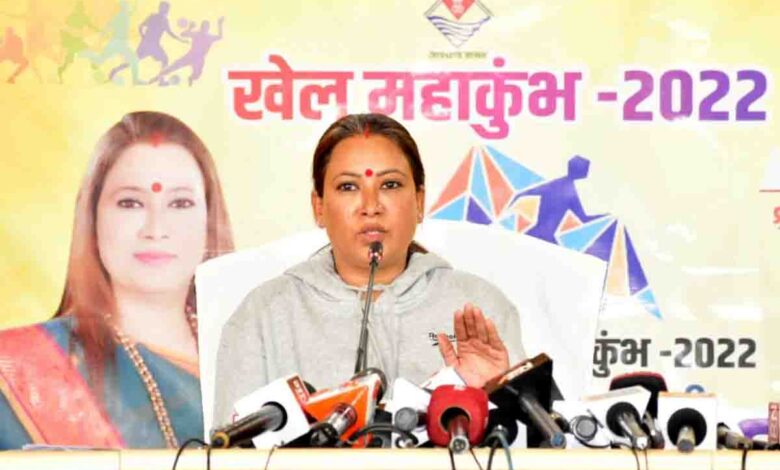 Tuesday, 27 December 2022 | PNS | DEHRADUN
The Sports minister Rekha Arya said on Monday that the State government will start Uttarakhand's State-level Khel Mahakumbh from December 29. All sports at the last level of the State's annual sports festival will be organised at Maharana Pratap Sports College in Raipur, Dehradun.
Addressing the media here on Monday, she said that Khel Mahakumbh started at Panchayat level, block level and district level and now it will conclude with the State-level competitions. A total of 3,73,128 students participated in Panchayat, block and district level competitions including 2,17,569 males and 1,55,559 females students in under -15, under-17 and under-21 categories. Arya said that 8,000 participants have been selected from Panchayat, block and district level who will compete at the State level from December 29. She informed that 13 teams from 13 districts will participate in a total of 14 games at the State level.
The winners will be selected from these district teams at the end of the competition. She said that the chief minister Pushkar Singh Dhami will inaugurate the event on Thursday. He will also inaugurate the newly constructed shooting range built with a budget of Rs 31.18 crore in the sports college campus for organising shooting sports in the national games to be held in the State, said the Sports minister. She said that the department will also honour players and coaches with medals and cash prizes for winning or participating in international competitions.
Arya said that the government has implemented sports policy to promote sports and sportspersons and consistent efforts are being made to provide all facilities to them. She also said that the department is also pleased to see such a huge participation of female students in Khel Mahakumbh which is increasing every year.