Breaking News
Sashakt Uttarakhand @ 25, Chintan Shivir : CS  directs officers to submit report within a week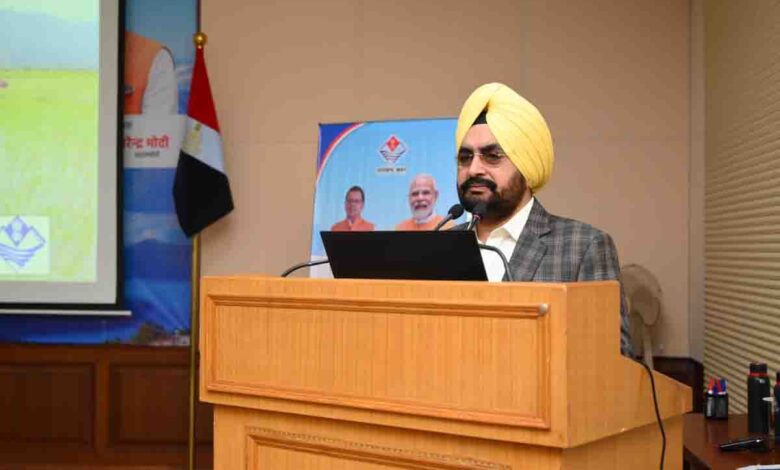 Thursday, 24 November 2022 | PNS | Dehradun
New reforms are needed the field of agriculture and horticulture : Purushottam
All the officers attending the three day 'Shashakt Uttarakhand @ 25, Chintan Shivir at Lal Bahadur Shastri National Academy of Administration (LBSNAA) Mussoorie would have to submit a report within a week.
The chief secretary SS Sandhu gave this order to the bureaucrats on the second day of the conclave on Wednesday. He said that brainstorming being held during the Chintan Shivir is the real introspection. "We will have to give a comprehensive thought to whatever new and innovative ideas are emerging in this Shivir,'' he said.
Discussions on the topics of agriculture, horticulture, tourism, forests and others took place in the Shivir on Wednesday. Secretary, agriculture BVRC Purushottam gave a presentation on animal husbandry, dairy development and fisheries.  He said that new reforms are needed in the field of agriculture and horticulture and there is a need to improve the quality of seeds in mountainous districts. He said that the department is focussing on improving the health of the soil in the mountainous areas of the state. Purushottam said that by emphasising on the organic sector, benefits to at least 50,000 farmers could be provided. He suggested that focus on resource, technology and innovation should be done in the mountainous parts. Purushottam opined since different departments are working in this sector efforts to bring them together should be done. He also suggested that instead of release of different Government Orders (GO), comprehensive GOs should be issued.
The secretary was of the view that land reforms are needed to be done again for focussing on cluster farming and this would also help in promoting contract farming. He informed that the department has taken a target to make five centres of excellence in five different fruits in the State. In the conclave the efforts made by the Nainital district magistrate Dhiraj Gabriyal were appreciated in the sector of cluster based agriculture. In his presentation the secretary said that to improve the livestock, we should take them from outside the State and Badri cows should also be promoted. By doing this, employment will also get a boost, he said.