Breaking News
Rescuers focus on all options to reach stranded workers in Silkyara tunnel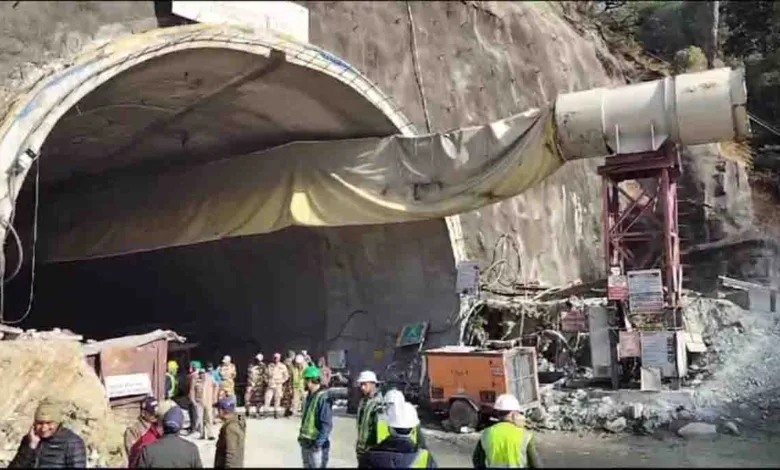 Sunday, 19 November 2023 | PNS | DEHRADUN
The authorities have now enhanced the efforts to rescue the workers stranded in the partially collapsed Silkyara tunnel in Uttarkashi district of Uttarakhand. The rescue effort will now be undertaken from five points. Work has started on a war footing to reach the stranded workers from five different points on Saturday. The focus is now on making escape channels from both sides of the tunnel, conducting vertical drilling from the mountain atop the tunnel and tunnelling from the Polgaon side of the tunnel. The decision to use all possible alternatives to rescue the stranded workers was taken after senior officials from the Prime Minister's Office, Ministry of Road Transport and Highways and other officials visited the site and held a meeting on Saturday.
The task of drilling through the debris blocking the tunnel was put on hold on Friday afternoon due to a snag. The drilling machine had drilled through 24 metres out of the 60 metre stretch blocking the tunnel when the snag developed. Another high-performance drilling machine airlifted from Indore in Madhya Pradesh arrived in Silkyara on Saturday where its three parts have to be assembled before it is deployed for drilling, officials said. Meanwhile, the number of workers trapped inside the tunnel since Sunday has been revised to 41 from 40. The executing agency National Highways and Infrastructure Development Corporation Limited (NHIDCL) came to know about this discrepancy on Friday.
On Saturday, a team of officials from the Centre including Ministry of Road Transport and Highways additional secretary Mahmood Ahmed, PMO deputy secretary Mangesh Ghildiyal, former adviser to the PM and officer on special duty, Uttarakhand government, Bhaskar Khulbe along with geological and engineering experts arrived at the site to review the rescue operations. The officials inspected the site and held a meeting to discuss all possible options to conduct the rescue.
Meanwhile, Chief Minister Pushkar Singh Dhami also held a meeting with senior officials and directed them to open a help centre for the relatives of the stranded labourers in Silkyara. He said that in order to deal with the Silkyara tunnel disaster the rescue operation is being done by taking help of the past experiences from similar tunnel collapses in the country and abroad.
It will be recalled that the tunnel is part of the ambitious Char Dham all-weather road project of the Central government.