Top Stories
Ramdev reiterates importance of Swadeshi on Rakshabandhan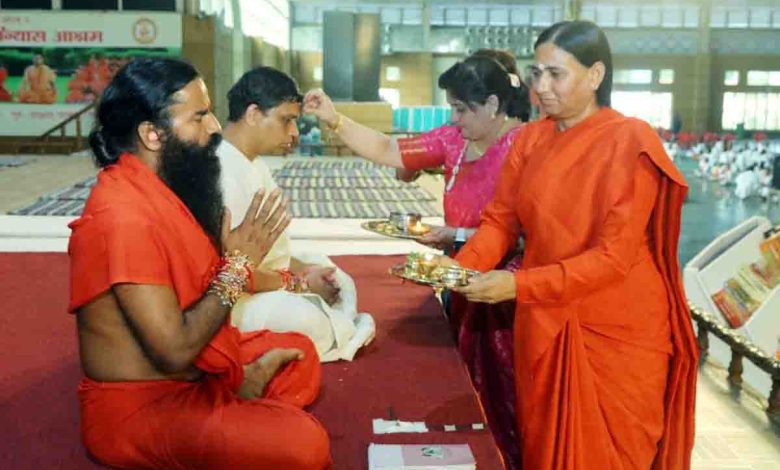 Friday, 12 August 2022 | PNS | Haridwar
Exhorts all to resolve to adopt domestic products instead of foreign products
Yoga guru Swami Ramdev and his aide Acharya Balkrishna celebrated the occasion of Rakshabandhan at Patanjali Yogpeeth here on Thursday. A large number of women tied Rakhis on the wrists on the duo on the occasion.
Speaking on the occasion, Ramdev said that purchasing foreign goods strengthens the dollar and weakens the rupee. He said, "If we consume foreign goods, then India's economic capacity will be weakened. Therefore, on this Rakshabandhan, all the countrymen need to take a pledge that we will abandon all foreign goods and adopt Swadeshi."
He further said that from now onwards, the entire Patanjali Yogpeeth is committed towards protecting the health of every sister every day. He said that Patanjali's product is not only a product, it is a symbol of the nation's self-respect and self-reliance,which is an alternative to foreign products.Now the time has come when all the countrymen have to give a befitting reply to the foreign products, he added.
Balkrishna said that on this day sisters tie a thread of protection on the wrist of their brothers and expect that the brothers will also protect them. "If this feeling comes in the mind of every man towards every woman viewed as mother and sister, then all the wrong deeds that are taking place in the country will end. The only way to end all this is the bond of protection and together with your resolve," said Balkrishna. He also stressed on the need for protecting traditional Hindu culture.