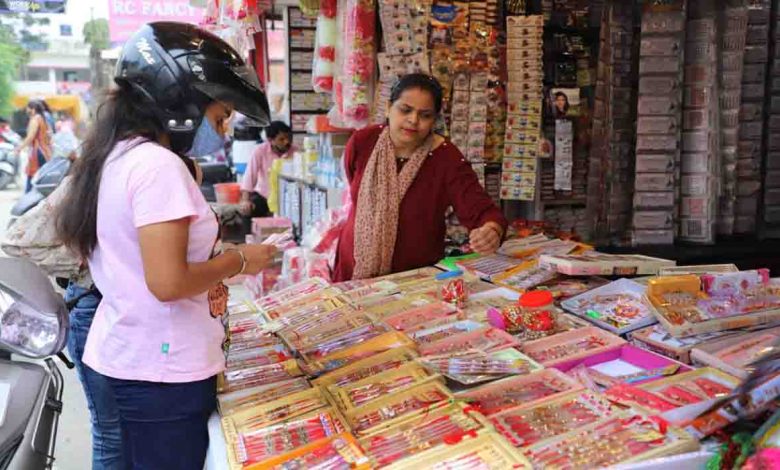 Friday, 20 August 2021 | PNS | Dehradun
With Rakshabandhan set to be celebrated on this Sunday, the markets in Dehradun are flooded with different kinds of Rakhis for every age group and even for women. The local shopkeepers disclosed that the business of Rakhis is better this time than last year when the Covid-19 hit the State. Some new designs of Rakhis have also entered the markets this year like Rakhis with a message inscribed on them like 'vaccination rocks', 'happily vaccinated' or 'mask up' among others.
However, the shopkeepers said that most locals are buying the usual embellished Rakhis due to which not many shopkeepers are keeping stock of such Rakhis. Unlike last time, many Chinese Rakhis are also available in the market this year. According to Anupam Singh, a local shopkeeper in Paltan Bazaar, "Most of the children's Rakhis available in the market that glow, make sounds or change colours are Chinese Rakhis. Such Rakhis were not easily available last year but these are in demand this time." The local shopkeepers informed that most of the stocks of Rakhis arrive in the State from Kolkata and Mumbai.
This year, many local organisations have also started selling handmade Rakhis through social media this year in the State. According to them, they like to connect directly to their customers through various social media platforms and they can provide services like customised Rakhis which are not easily available in marketplaces.
The founder of Minakriti-The Aipan Project, Minakshi Khaiti who currently lives in Ramnagar, said that her organisation made 5,000 Aipan Rakhis this year and has sent a large number of Rakhis across the country and abroad. "We started making Rakhis in June and marketed them through social media. We have inscribed common words of Kumaoni and Garhwali languages on these Rakhis. Though Aipan is a folk art of the Kumaun region, we have received a great response from the Garhwali community too. We have sent over 1,000 Aipan Rakhis to Garhwali regions like Srinagar and others. We have sent Rakhis to some people living in America too," stated Khaiti. She said considering the response this year, she will make more Rakhis next year. Surbhi Jaiswal, the founder of Building Dreams Foundation also informed that her foundation has also made over 1,500 Rakhis and has received a great response from locals. A local resident of Dehradun, Rishika Jugran is also making Rakhis from recyclable materials. She said that she has also been receiving requests of making customised Rakhis and she makes them as per the request of customers using the recyclable materials for Rakhis as well as in their packaging.