Top Stories
Mamata banerjee injured during poll drive, cries conspiracy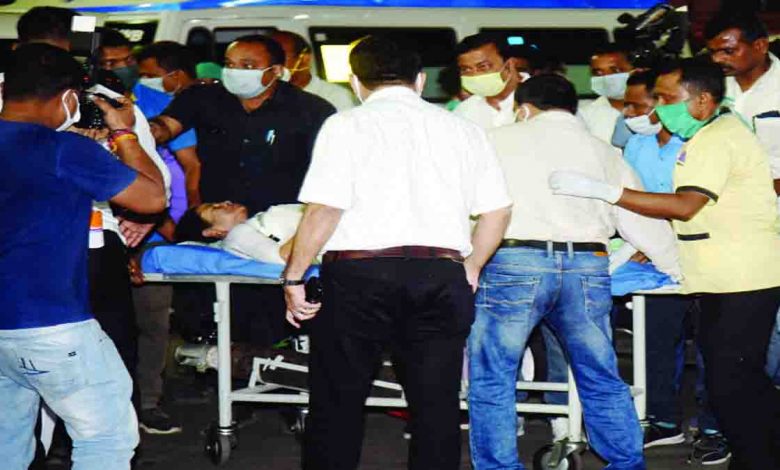 Opp calls it drama; CM files papers from Nandigram
In a major lapse of security, Bengal Chief Minister Mamata Banerjee on Wednesday got "seriously" injured when 7-8 people allegedly pushed her while she was addressing a small crowd at Ranichak area in Nandigram.
The CM who sustained injuries to her leg, face hip and chest was rushed back to Kolkata's state-of-art SSKM Hospital. A team of doctors treating her described her condition to be "stable," adding she had been administered local anesthesia in her injured leg due to "excruciating pain." Though X-Ray and other reports revealed no abnormality in her condition.
Governor Jagdeep Dhankhar who rushed to the hospital to enquire after her health had sent a preliminary report to the Union Home Ministry stating her condition to be stable. The Centre had offered all possible help, including providing central security to the Chief Minister should the State Government accept that, sources quoting the Governor said.
Mamata, who had emerged from a mass Puja (Aarti) at a Kali temple — where she personally rung the ritualistic bell in the evening — got hurt while addressing a small crowd jostling to see her from close proximity. "I was addressing a small crowd when some 7-8 people pressed me against the door and literally choked me and pushed me … I fell down and injured my left leg," said Mamata alleging "conspiracy" behind the incident.
"There was no police around. No police bandobast was there … the SP or other officers were not to be seen and I was all on my own," alleged the CM, adding, "I am getting feverish and having pain in the chest … so I cannot talk. I wanted to stay back at Nandigram tonight but I am rushing to Kolkata for treatment."
Back in Kolkata Congress Lok Sabha leader Adhir Chowdhury refused to buy the Chief Minister's "conspiracy" calling it all an "election drama to win the sympathy of the people." He said "those who have seen Narendra Modi and Mamata Banerjee will not be surprised at such political dramas being played to win public sympathy … she is alleging
conspiracy … but my question is had it been a conspiracy then would only 7-8 people push her? … wouldn't they come with bigger arrangement? … and who will like to risk a sympathy wave to generate for an opponent during election time by conspiring to attack her … so this is all a drama being enacted out of a freak fall."
BJP MP Arjun Singh who too was in the TMC for several years before joining the saffron outfit the in 2019 said "those who know Mamata will understand the drama behind it. This is a drama being enacted to gain sympathy."
He also attacked the State Government of which the Chief Minister herself is the Police Minister saying "if this is really an attack on her then it is for her to explain the attack because she is a Police Minister and in charge of the entire security network."
The TMC leadership questioned the "true intention" of Election Commission for the Wednesday's incident demanding a thorough investigation into the incident.
Mamata enjoys Z-plus security cover.
"Our Chief Minister is seriously injured and the Election Commission who is in charge of the security affairs have to take cognizance of it all," senior Bengal Minister Subroto Mukherjee said.
Incidentally the allegation comes against the backdrop of BJP leadership on Wednesday lodging a complaint with the Commission against two senior State police officers Gyanwant Singh and Vivek Saha for trying to influence the lesser police officers in Nandigram so that they can get the people to vote for the TMC.
Rajya Sabha Swapan Dasgupta alleged that the two senior police officers who were the part of Chief Minister's security protocol were trying to influence the police officers at Nandigram.
Thursday, 11 March 2021 | PNS | Kolkata