Others
Locals and activists protest against alleged religious conversion in Doon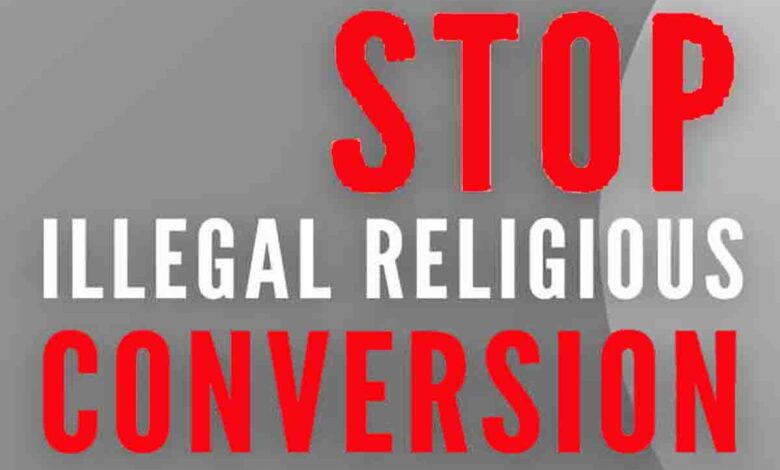 Monday, 21 November 2022 | PNS | DEHRADUN  
Several locals and activists strongly objected outside a house located at East Canal Road in Dehradun alleging that several Hindus were being forced to convert in lieu of monetary and other benefitson Sunday.
Police also received a complaint on Sunday evening from a man who was allegedly being lured to convert with promises of financial assistance. Locals and activists who reached the location stated that a prayer meeting was allegedly organised at a Christian man's home on EC Road which was joined by several Hindu children and women. They all were gathered there for the alleged conversion in lieu of monetary benefits and payment of hefty school fees for their children, as alleged by some locals and activists. They raised ruckus in the area over the alleged conversion activity and stated that some missionary elements from the community mark helpless and financially weak people, mostly Hindus, to lure them to conversion with promises of money, house and children's school fees among other benefits.
However, people who attended the meeting stated that they attended the prayer meeting on their own without being pressurised by anyone. The police also reached the location to pacify the locals. The station house officer (SHO) of Dalanwala police station, MK Bhatt told The Pioneer that the police reached the location after being informed about the disturbance but no conversion complaint was filed by anyone at that time. However, a complainant reached the police station in the evening to file a complaint about being lured to convert in exchange for monetary benefits. He said that the matter is sensitive and the police will investigate the matter after filing the complaint to take appropriate action. 
This incident comes less than a week after the Uttarakhand cabinet approved the proposal to make suitable amendments in the Uttarakhand Freedom of Religion (Amendment) Bill, 2022 following which
forced religious conversions in the State will be a non bailable cognisable offence. The offenders under the new law will serve up to 10 years of jail term if convicted of forced conversion.