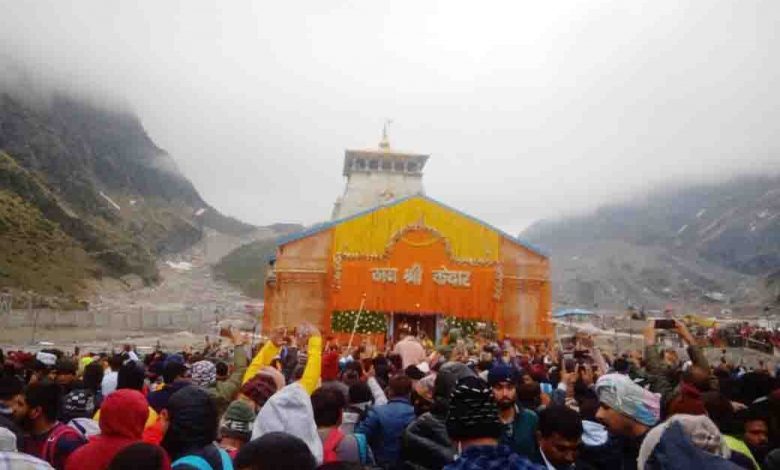 10K devotees present at high altitude shrine on the occasion
Saturday, 07 May | PNS | Dehradun
The portals of the Kedarnath shrine were reopened to the public at 6:25 AM on Friday amidst Vedic chants. The temple was decorated with about nine quintals of flowers on the occasion. About 10,000 devotees along with chief minister Pushkar Singh Dhami were present as the band of the Maratha regiment played its tunes to mark the occasion. However, full ritual worship did not begin in Kedarnth as the full rituals were not conducted in the shrine of the guardian deity Bhairav. The opening rituals in the Bhairav shrine are undertaken on Tuesday or Saturday, so after these are conducted the full ritual worship will begin in Kedarnath on Saturday, said temple priest Gangadhar Linga.
The process of opening the portals of Kedarnath shrine began at 4:30 AM with ritual prayers at the door of the sanctum sanctorum beginning at 5 AM. The guardian deity (Kshetrapal) of Kedarnath- Bhairav was invoked and the portals of the Kedarnath shrine were opened at 6:25 AM. Immediately after opening of the shrine, the lord was awakened from his Samadhi state after which his Nirvan Darshan and Shringar Darshan were held. A Rudrabhishek was conducted in the name of Prime Minister Narendra Modi.
Chief minister Pushkar Singh Dhami and Tourism minister Satpal Maharaj greeted all the people on the occasion.
It is pertinent to mention here that the Gangotri and Yamunotri shrines were opened to the public on the occasion of Akshay Tritiya on May 3. Out of the Char Dham shrines in Uttarakhand, three have opened for the public while the Badrinath shrine will be opened on May 8. The Char Dham Yatra is being conducted in a full fledged manner this year after a gap of two years when it was not conducted properly due to restrictions put in place due to the Covid-19 pandemic.