Spirituality
Jhanda fair to commence with hoisting of holy mast today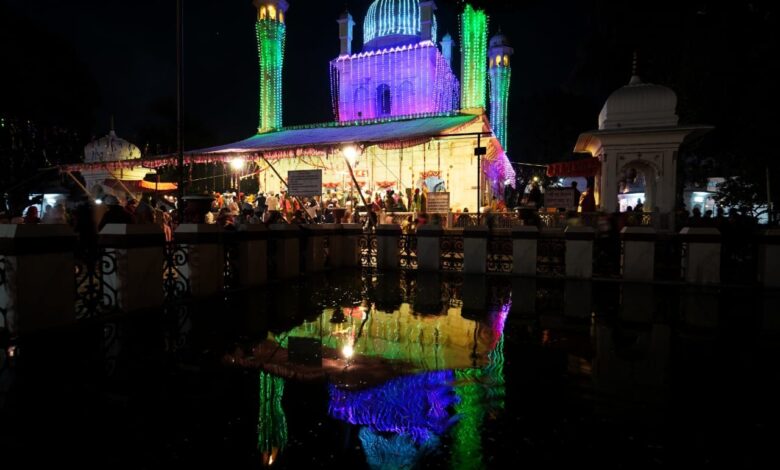 Sunday, 12 March 2023 | PNS | DEHRADUN
The famous Jhanda Mela of Dehradun will commence on Sunday with the hoisting of holy Jhanda (flag) in presence of a large number of devotees at historic Darbar Sahib premises.
The programme will begin with the bringing down of the old flag pole on Sunday morning. In the afternoon, the new pole will be raised under the guidance of the head of the Shri Darbar Sahib, Mahant Devendra Das. The administration of Darbar Sahib and district administration of Dehradun have made all the preparations for successful hosting of the mega fair. On Saturday the district magistrate of Dehradun, Sonika reached Darbar Sahib and reviewed the preparations.
On Saturday Mahant Devendra Das delivered 'Gurumantra' to the devotees at Darbar Sahib. Explaining the significance of 'Guru Mahima' he said that if a person follows the path described by Guru, he attains the feeling of heaven on earth. He asked the devotees to keep away from social evils like female foeticide, intoxications and dowry and said that they should ensure that they play significant roles in building a prosperous society and nation. He also appealed to the followers to undertake planting of trees and help in conserving water resources.
The manager of Shri Jhande Ji Fair Management Committee, KC Juyal said that on Sunday morning the old flag pole will be brought down and the new pole would be given a bath with milk, curd, butter, Gangajal and 'Panchgavya'. This will be followed by the ceremony of putting on 'Gilaafs' (cloth covers) over the new pole and the event of hoisting of the flagpole in the afternoon.
The 15-day long fair is celebrated to commemorate the birthday and arrival of Guru Ram Rai at Doon valley in the year 1676. Guru Ram Rai was the eldest son of Guru Har Rai the seventh Guru of Sikhs. He performed some miracles in the court of Aurungzeb which caused his expulsion from Sikhism. The king of Garhwal Fatheh Shah who was a friend of the Mughal emperor allotted some land in Doon valley to Guru Ram Rai. In the year 1676 Guru Ram Rai arrived at Doon valley on his birthday on the fifth day after Holi and set his camp (Dera) and the day is celebrated as the Jhanda Mela.