Others
Govt risking lives of people for profit in Uttarakhand: Yadav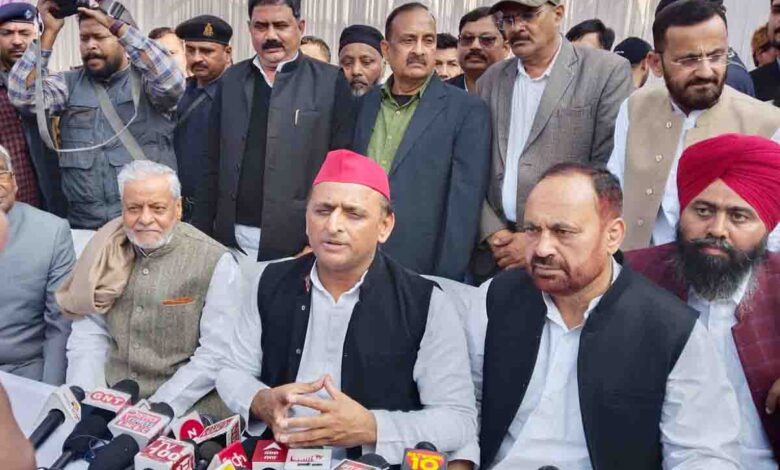 Monday, 23 January 2023 | PNS | HALDWANI
Samajwadi Party chief Akhilesh Yadav alleged that the government is putting the lives of the people in mountainous regions by ignoring the ecological systems in the name of earning profit. He said that the steps taken by the Uttarakhand government are taking the State towards destruction instead of development. The people of Uttarakhand had hoped for development but the successive State governments were unable to fulfill the aspirations of the people, he said. The SP chief said this while addressing the media in Haldwani where he was on Sunday to attend the marriage function of the party's State in-charge Abdul Matin Siddiqui's son.
Yadav opined that the government is prioritising profit over the environment and safety of the people in the mountainous regions. He said, "For a long time the local residents and geologists along with other experts have been warning the government against damaging the mountains for generating electricity. However, the government, in the greed for earning a profit ignored the warnings of the experts and the local residents. The result of this attitude is now visible in Uttarakhand."
Responding to a question raised about Congress leader Rahul Gandhi's Bharat Jodo Yatra, he said that this Yatra is a political programme of the Congress. "They had invited me so I thanked Rahul Gandhi. However, our political party has its own decorum," he said.
Referring to the 2024 election, he said that the Bharatiya Janata Party had not even fulfilled its 2022 announcements so far. The BJP had come to power in the Centre due to Uttar Pradesh and this time it will be removed from office in Uttar Pradesh with the Samajwadi Party starting the efforts to achieve this.
Earlier, Yadav had a detailed discussion with local party members. He said that Uttarakhand has not achieved the desired level of development despite being a small State. He said that cases of examination papers being leaked have come to light in both Uttarakhand and Uttar Pradesh.