Top Stories
Form stretch-wise committees along the Ganga, says Sandhu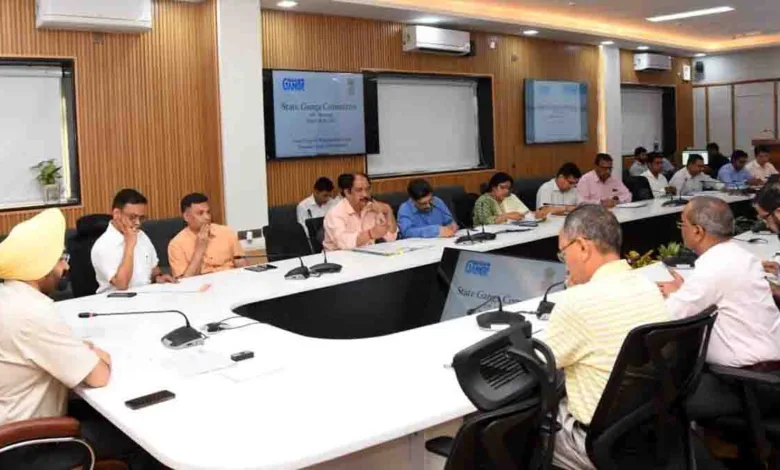 Wednesday, 07 June 2023 | PNS | DEHRADUN
Chief secretary SS Sandhu directed officials to form stretch-wise committees focused on the Ganga river. Local members of the intelligentsia and those serious about the cleanliness of the Ganga should be included in these committees so that efforts focused on the Ganga can be made into a campaign of the common people. This will also ensure consistent monitoring, he said. To ensure that dirty water doesn't enter the river directly, sewage treatment plants should be established at a distance from the river and water treated in these plants should be used for agriculture. The chief secretary issued these directions while chairing the meeting of the State Ganga committee here on Tuesday.
Regarding the announcement made by the chief minister Pushkar Singh Dhami regarding formation of river and spring rejuvenation board, the chief secretary directed that steps should be taken to ensure maximum participation of the general public. Stating that sewage treatment plants should be built at a distance from the Ganga and that the water from the plants should be used for agriculture, Sandhu said that small plants should be established at various locations instead of a big plant in one location. Annual social audits of the sewage treatment plants should also be undertaken. The work of social audit of the plants should be handed over to various agencies instead of getting a single agency to do the task, Sandhu said.
The chief secretary also directed the officials to focus on dense afforestation while stressing that as many people as possible should be connected to the effort to encourage organic farming on the banks of the river. He said that the yield is comparatively less in the initial years but two to three years later the production starts increasing and the produce yields good rates due to which organic farming soon becomes profitable. Some scheme can also be implemented to support farmers for such organic farming in the initial two to three years, the chief secretary said.
Principal secretary RK Sudhanshu, secretaries Arvind Singh Hyanki, Sachin Kurve, Udayraj, additional secretary Navneet Pandey and representatives of institutions associated with the State Ganga committee were also present in the meeting.