Breaking News
Focus on simplifying implementation of Govt schemes: CM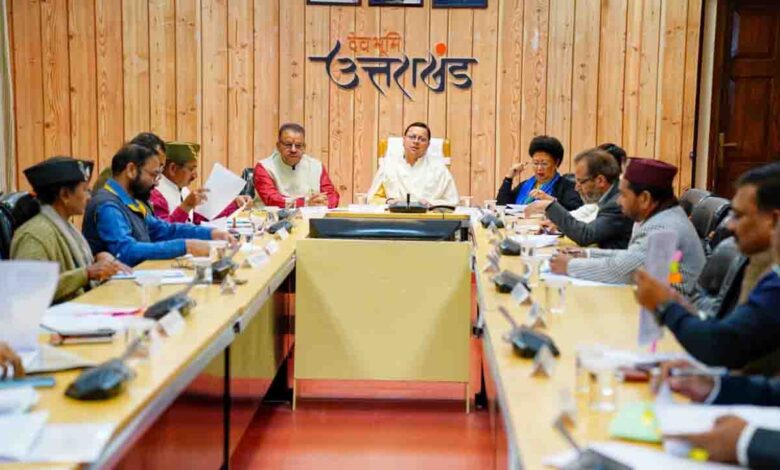 Wednesday, 22 March 2023 | PNS | DEHRADUN
Chief minister Pushkar Singh Dhami has said that the officers should focus on simplification of the process while implementing the government schemes. The CM gave the order while undertaking a review meeting of the development projects going on in the Assembly segments of the Tehri parliamentary seat at his residence on Tuesday. He said that the officers should expeditiously solve the problems communicated by the MLAs. The officers should ensure that there should not be any delay in the works and smaller issues should be solved at the district magistrate level. In the high level meetings such smaller matters should not come up, he said.
The CM said that the legislators have listed some works in their areas which should be taken up on the basis of the priority and there should not be any delay in these works. He added that regular monitoring and review of the steps taken by the different departments should be done . He said that focus should be on simplification of the processes during fast disposal of the issues. Dhami directed the secretaries to undertake regular reviews of their departments for solving the issues of people and monitor the implementation of the development schemes. He said that the reviews of the development works being undertaken in the Assembly constituencies would be held every three months. He said that the horticulture, agriculture and tourism sectors hold immense potential in Uttarakhand and efforts to increase the livelihood of people should be done at a faster pace in these sectors. He opined that migration would be stopped by maximising self employment opportunities at the local level. The CM said that more efforts are needed to give an impetus to the economy of the State.
In the meeting the MLAs raised the issues of roads, health facilities, drinking water, waste disposal, drainage, sewer and others. The CM assured that every possible effort would be made to solve the problems raised by the MLAs.
The meeting was attended by cabinet minister Ganesh Joshi, Tehri MP Mala Rajya Laxmi Shah, MLAs Kishore Upadhyaya, Pritam Singh Panwar, Shaktilal Shah, Munna Singh Chauhan, Sahdev Singh Pundeer, Umesh Sharma Kau, Khajan Das, Savita Kapoor, Durgeshwar Lal and Suresh Chauhan along with senior officials.