Breaking News
Five dead, seven injured after bus experiences brake failure in Champawat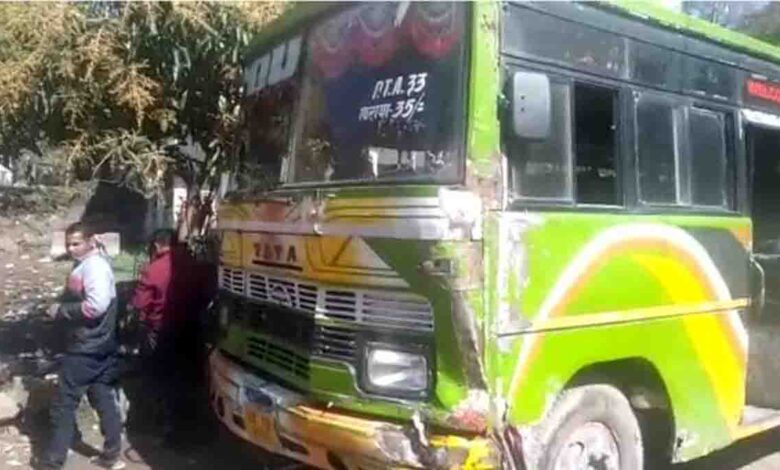 Friday, 24 March 2023 | PNS | DEHRADUN
Five pilgrims died and seven sustained serious injuries when a bus rammed into a crowd at Thuligad village's parking area in Champawat district on Thursday morning. The chief minister Pushkar Singh Dhami expressed grief at the tragic accident and ordered the officials concerned to provide the best possible medical treatment to the injured pilgrims. The officials said that the accident occurred at the parking spot when the driver of a private bus was parking the bus when the bus, instead of stopping, moved forward towards a slope due to suspected brake pressure failure crushing many pilgrims there who were returning from Ma Purnagiri fair.
The officials informed that four victims died on the spot and eight injured were admitted to the government hospital in Tanakpur where one victim succumbed to his injuries during the treatment. The deceased and injured pilgrims belong to the Badaun and Bahraich districts of Uttar Pradesh who had come to the Ma Purnagiri fair in Tanakpur, as per the officials. The dead pilgrims include three women and two men and the police have identified them as Maya Ram (29) Badrinath (43), Ramdei (30), Amaravati (26) and Netravati (20).
The Women Empowerment and Child Development minister Rekha Arya, who was there to participate in a programme at Saras fair organised in Tanakpur on Thursday, also reached the hospital on hearing about the accident to take stock of the situation. She also announced providing relief of Rs one lakh for the families of each deceased and Rs 50,000 for the families of injured pilgrims. The Kumaon commissioner Deepak Rawat and inspector general of the division, Nilesh Anand Bharne along with Champawat district magistrate Narendra Singh Bhandari and senior superintendent of police Amit Srivastava also reached the hospital to meet the injured. The district administration also made arrangements to send the bodies of the deceased to their respective families in Uttar Pradesh. The officials said that though the death of five pilgrims clearly appears to be an accident, the police would look into the matter.