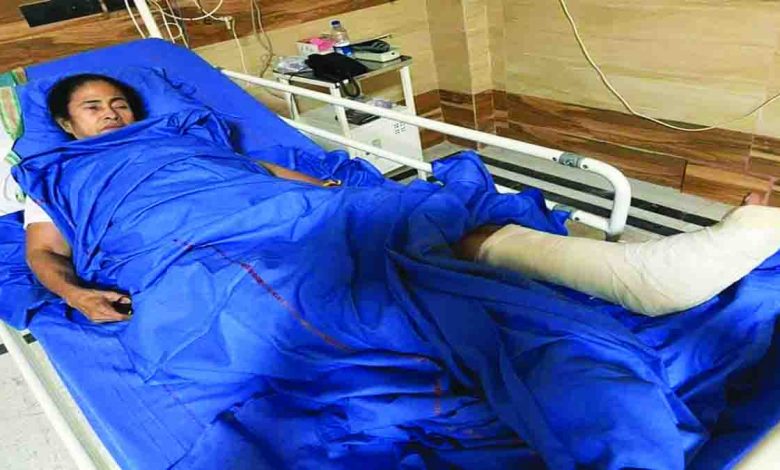 Be calm, CM urges workers; no change in drive map, says TMC
Day after fracture in her ankle, West Bengal Chief Minister Mamata Banerjee is planning to resume her Assembly poll campaign, albeit on wheelchair, even as she released a video on Thursday asking her party workers to maintain calm.
The Chief Minister had to be hospitalised on Wednesday evening after she fell and broke her left ankle during the election campaign in Nandigram.
TMC leadership said that her election campaign programmes would remain unchanged and Mamata is sure to attend five back-to-back rallies at Purulia and Bankura on March 13 and 14.
While asking the agitating party workers to remain calm in a video message, the Chief Minister said her leg got crushed when a crowd standing by the road pressed against the front door of her vehicle which was half open while she was standing on it and waving at the onlookers.
Mamata had on Wednesday evening alleged "conspiracy" blaming 4-5 men who committed the "mischief" prompting the Trinamool Congress workers to start demonstrating all across the State. The TMC also submitted a memorandum to the Election Commission of India seeking a thorough investigation into the matter.
The condition of the Chief Minister was stable, doctors said, adding a cast has been put on her left leg. While the MRI scan showed abrasion or hair-line fracture, a six-member team of doctors also said that some more radiological tests would be conducted on her "to ascertain the reason for the front headache and chest pain.
In her video message, Mamata said, "I appeal to everyone to remain calm and not create disturbance to the common man… I will soon return and start campaign … no programme will be hampered. I will manage it all. If need be I will campaign on a wheelchair."
She said, "It is true that I was badly hurt while campaigning in Nandigram during which my leg and arm were injured. There were bone injuries… ligament injuries… I also suffered chest pain."
Speaking about the cause of the injury she said, "I was greeting people from the car bonnet and the crowd pressed into me, the entire pressure was on me. My leg got injured after which I was given medicines and taken to Kolkata."
Mamata's video statement notwithstanding, her party leaders continued with the "conspiracy" narrative accusing the Election Commission "which is in charge of the State administration now" for "compromising the Chief Minister's security."
Harping on the conspiracy theory, senior TMC leaders Firahd Hakim, and Saugato Roy, who visited the accident spot on Thursday, said, "It is strange that Prime Minister Narendra Modi did not call up even once to enquire after the Chief Minister's health. This is unprecedented and clearly speaks about the insensitivity of the BJP." Roy is going to Delhi to lodge a formal complaint with the EC on Friday.
Dismissing the BJP's theory that the door of Mamata's vehicle on which she was standing got hit by a roadside post causing her the freak injury, Roy and Hakim said had it been so then the door of her vehicle — NoWB02 AN – 5555 — would suffer dents or bear scratch marks … but nothing of that sort was found in the vehicle.
TMC Rajya Sabha member Derek O' Brien who formally wrote a letter to the Commission on his party's behalf, said, "You have to understand the chronology. You removed the DGP, compromised her security, and then attacked her. If you go through social media posts by the BJP leaders there have been indications that she would be attacked."
There was no reaction from the EC though inside sources said that EC had instructed all the DMs and SPs to take precautionary measures concerning the Prime Minister and the CM.
The EC had also asked Bengal Chief Secretary and the Special Observer to file their respective reports by Friday afternoon, sources said.
Another senior TMC leader Partho Chatterjee said, that the State's law and order condition was "good before the elections were announce and it has deteriorated only after the EC took charge."
Elsewhere rejecting the "conspiracy" theory the BJP leadership hit back saying "why on earth the conspirators who want to kill the Chief Minister will target the leg … and why on earth a party will want to ruin its electoral chances by mounting such trivial attacks."
State BJP president Dilip Ghosh "wishing the Chief Minister early recovery" said "it is easy to plaster your leg and lie down crying conspiracy — in order to gather sympathy — and it is difficult to fight the elections taking on a surging Opposition. But we do not want such backdoor entry into politics. We want to fight her in the game and defeat her from the front. Let her come and campaign and face defeat frontally."
Friday, 12 March 2021 | Saugar Sengupta | Kolkata