Breaking News
Dhami makes slew of announcements on completion of one year in office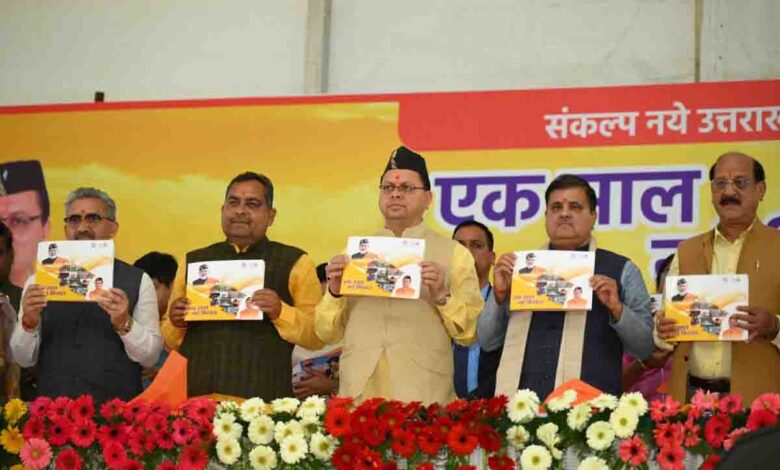 Friday, 24 March 2023 | PNS | DEHRADUN
Chief minister Pushkar Singh Dhami made various announcements in public interest, unveiled the foundation stone for the city park to be built at Tarla Nagal and released the booklet 'Ek Sal Nai Misal' to mark one year of the State government in office here on Thursday.
Dhami announced that the CM examinee transport scheme will be started under which candidates appearing for examinations will be provided 50 per cent discount to travel to and from the examination centre in Uttarakhand. Computer and information technology will be taught from class VI while lab on wheels will be established in all the 13 districts of the State. He further announced that Uttarakhand will be developed as science technology and information technology corridor and that the government will soon bring out a science and technology innovation policy. The international stadium in Haldwani will be upgraded and an international-level sports university will be set up there. The CM horticulture scheme will also be started to assist cultivators in the State while the Mukhyamantri Rajya Pashudhan Mission will be started to assist those in animal husbandry.
Dhami further announced that the CM skill development and employment scheme will be started under which skills will be taught to graduate students. The Mukhyamantri Gram Sadak Yojana will be started to link villages with upto 250 population with main roads. According to availability and suitability, one Amrit Sarovar in every Vidhan Sabha area will be developed as a tourist spot and water sports centre. The State government will start mobile schools to provide proper school education to children of labourers. The road from Diwalikhal to Gairsain will also be widened. A policy will also be drafted for elaborate celebration of the State's traditional festivals including Uttarayani, Fuldei, Harela, Igas, Budhi Diwali, announced Dhami.
Addressing the gathering, the CM said that the public knows very well who can take the State forward on the path of development, ensure the deprived get their rights and fulfill the dreams of the youth. The efforts of the government in its one year in office were focused on finding solutions to all the challenges facing the State and take Uttarakhand forward on the path of development, he said.
Dhami said, "The trust of the people is our inspiration and we have to strengthen this trust further. We have passed some stages of the resolve sans alternative we have adopted for development of Uttarakhand but many more stages are yet to be passed. As per Prime Minister Narendra Modi's expectation, the State government is fully committed to making Uttarakhand the best State of India. One year's time is inadequate time to evaluate any government but still the State government has undertaken major initiatives with the resolve of a new Uttarakhand. We have taken various steps in this one year to achieve institutional reforms," said the CM. He also listed various important decisions taken in public interest by the State government in its one year in office so far.
Minister in-charge of Dehradun district, Subodh Uniyal said that due to the various decisions taken in the past year under Dhami as CM, the poor are being provided three free cooking gas cylinders in a year. Commendable work has been done to make farmers self reliant and special efforts have been made to encourage startups and skill development. Work is being done at a swift pace in all sectors to make Uttarakhand a leading State by 2025, he averred.
The Bharatiya Janata Party State president Mahendra Bhatt, MLAs Khajan Das, Vinod Chamoli, Umesh Sharma, Savita Kapur, Brij Bhushan Gairola, Sahdev Singh Pundir, Dehradun mayor Sunil Uniyal Gama and others were also present on the occasion.